A new bikeway extending from South Overland Trail to Riverside Avenue along the Pitkin corridor is currently in development and slated to begin construction in July. According to FC Bikes, the project aims to increase safety on arterial crossings, high-traffic intersections, so bicyclists may travel across Fort Collins with less risk of harm. 
Most roads on the proposed bikeway are already defined as low-stress, as there is a low volume of traffic and little danger to bicyclists. Most upgrade efforts will be focused at these arterial crossings where bicyclists are at the most risk.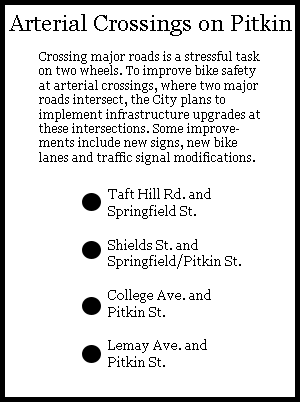 The bikeway is being implemented as part of an effort by the Department of Transportation to create a low-stress bicycle network across the city, as detailed in the Fort Collins 2014 Bicycle Master Plan. Due to its central location, east-west orientation and connection to CSU, the Pitkin corridor is the "number one priority" for increasing bike accessibility across the city, according to project manager Dan Woodward.
The city has not come up with a final design for the bikeway yet, but showed preliminary plans at a public meeting Feb. 3 to gain opinions and thoughts. The Department of Transportation aims decide on a final design before June, when they will advertise the construction and subsequently begin work in July.
According to FC Moves, possible infrastructure changes at intersections include signal upgrades, new striping and signing, new bicycle lanes and modifications to existing sidewalks.
Woodward said he does not anticipate a lot of issues with the implementation of the bikeway, but said it is too far out to tell exactly how or when construction will affect traffic.
"If we widen sidewalks or modify ramps, we'll have to look at drainage and so forth, but for the most part there's no major upgrades," Woodward said.
The bikeway is expected to cost $741,250 to implement, $593,000 of which comes from a federal Transportation Alternatives Program grant. The remaining $148,250 comes from funds raised from the Building on Basics tax renewed by Fort Collins voters in 2015 after it was originally passed in 2005. The Building on Basics tax adds a quarter of a cent onto every purchase made within the city to help fund local projects.
Woodward said the project will be open to a second round of public input sometime in March or April, when his team has decided on an effective plan. 
"The hope is that it is a positive thing for the cycling community and the entire city," Woodward said. "We would like to create an effective east-west route and we think it will be well-received."
Collegian Assistant News Editor Erik Petrovich can be reached at news@collegian.com or via Twitter @EAPetrovich.