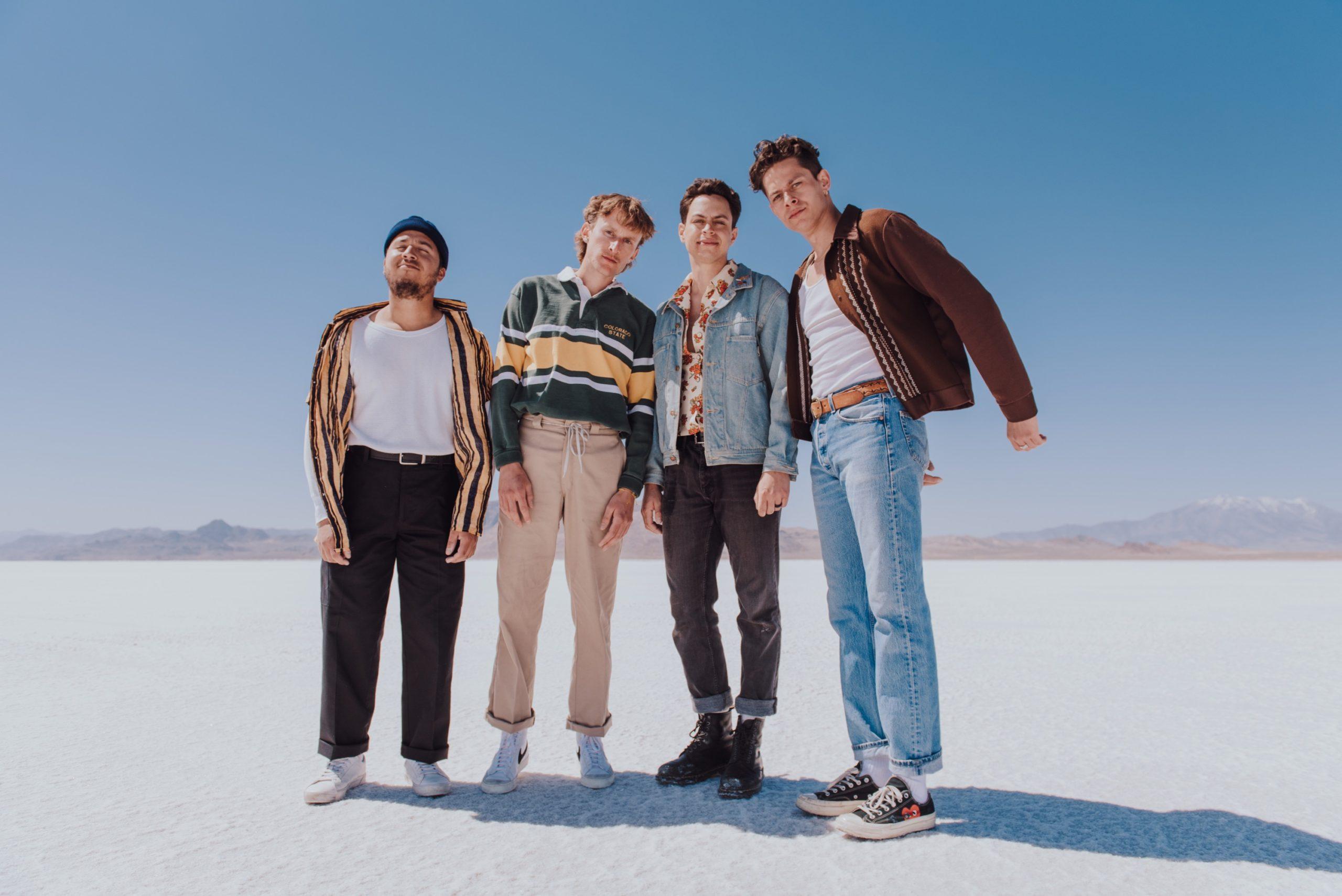 Nick Lundeen and Nic Lubin started out as roommates with no idea they would create a band would or spend a weekend with indie legend Saint Motel just a couple years later. With their newfound success, the band reflected on their humble beginnings and how a lease brought them together.
"We both kinda knew we played guitar a bit, but we never really gave it a shot because it was a little awkward at first," vocalist and guitarist Lundeen said. "Chris (Lubin) invited us to this open mic, and we thought it was going to be groundbreaking. … It was the sh*ttiest thing we ever did." 
After the open mic at the Attic Bar & Bistro in Boulder, Colorado, Lady Denim started to form with the addition of Chris Lubin on bass and Matthias "Ozzy" Mandl on the drums. They started out jamming together before holding a house show. 
"It was a very small space, but it felt like we packed out something like Red Rocks (Amphitheatre)," Lundeen said. 
Nic Lubin remembered the show with fondness and nostalgia, saying it was probably one of his favorites of all their shows in the past few years. Lundeen and Nic Lubin promised their parents to finish school, but recognized early on that Lady Denim could be their ticket to success.
With their first original song, "Pipe Dream," the band created their online footprint. 
"A simple song that ends up getting traction and streams on platforms or whatever is not the end goal," Nic Lubin said. "It's not going to make you a better band. I'm just excited for how now we're getting opportunities to get our butts in front of other people. … I'm just excited to have people bring their friends."
The new album features indie-pop songs "Avery Park," "Pixie Girl" and "Old & New." Each song features its own gentle instrumental feelings with rock elements.
Lady Denim said this album wasn't largely influenced by the musicians they looked up to and came authentically from a jam session. The first two songs, "Pixie Girl" and "Old & New," came out as singles before the EP's release. "Avery Park" completes the album, but Lady Denim says fans can expect another EP or album relatively soon. 
"The name (of the album) in itself, 'Loosely Held Hands,' has that romantic identity, but it also comes back to being written during that COVID(-19) era," Lundeen said. "Within life, we were holding onto the band itself, but then there was also the sound — our previous sound and our growing sound."
Nic Lubin described "Loosely Held Hands" as their "COVID EP," referencing when it was made and the newfound free time they found themselves with during the writing process. Lubin felt this album came from a more authentic place without a heavy influence from others. As a result, "Old & New" especially showed a bit of a change in the band's evolving sound.
"Being limited in what we could do in our day-to-day basis was just kind of a more transparent lens that we were looking through (when creating these songs)," Mandl said.
Mandl said he hopes the band impacts people's lives. Lady Denim fans have driven from northern Wyoming to see the band, which Mandl said means a lot to him. With their music reaching further, they now greet fans willing to travel for hours to their shows.
"As bands in this day and age, I feel like it's so uncertain as far as shows because you never know where the way of the world is going," Lundeen said, referring to how COVID-19 restrictions and other incidents caused live music to take a hit. 
Lundeen remarked that he's most excited to interact with the audience again and provide new moments in life for others.
"It's rewarding and very humbling having kids come up to you and tell you, 'Your music got me through some really depressing times,' or like, 'I met my girlfriend at your show,'" Lundeen said.
"Loosely Held Hands" can be streamed on Spotify and is available for purchase or streaming through Apple Music. Lady Denim plays with Deep Sea Diver at the Aggie Theatre at 8 p.m. on Oct. 8.
Kota Babcock can be reached at entertainment@collegian.com or on Twitter @KotaBabcock.