Disney's 'A Wrinkle in Time' tells empowering story with mediocre filmmaking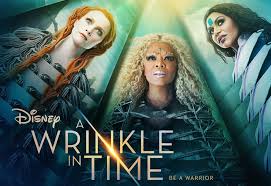 Disney's "A Wrinkle in Time" hit theaters at an interesting time. The movie came out just shy of a month after the release of Disney's "Black Panther," making this the first time two films created by Black directors with budgets of $100 million have ever held the top two spots in box office sales, according to CNN.
The timely release of "A Wrinkle in Time" may have been it's strongest quality, as it gave every single moment of the film more gravity. The film's timing also beautifully managed to modernize a book from the 1960s that seemed so radical at the time it was frequently banned from schools and libraries.
The film follows young Meg Murray in her intergalactic seach for her missing scientist father. Meg, her brother, Charles Wallace and her friend Calvin find help in Mrs. Who, Mrs. Whatsit, and Mrs. Which, three celestial beings striving to instill light in the galaxy.
Storm Reid, who plays protagonist Meg Murray, gives a jaw-dropping performance, especially considering that she's only 14-years-old; her talent can only grow.
Of course, larger-than-life Oprah offers a sensational perspective with nearly every line, and Mindy Kaling proves she has dramatic chops beyond her comedic ones.
Unfortunately, Reese Whitherspoon's performance echoes some of her pre-"Walk the Line" performances, and Levi Miller proves that he has no business working in Hollywood whatsoever.
Chris Pine performs with his usual charm and a surprisingly grey beard, and although given very little screen time, Gugu Mbatha-Raw is able to add yet another type of role to her ever-expanding repertoire: a mother of a stubborn daughter.
However, because of the combination of Madeleine L'Engle's classic novel and acclaimed director Ava DuVernay's participation, even the supporting cast is impressive; Zach Galifianakis, Michael Peña and David Oyelowo all pop up.
Other standouts of the film are the visuals (save for the odd leaf monster that Witherspoon temporarily transforms into), and the costumes (save for poor Kaling, who often looks like a craft store threw up on her). 
Additionally, the lamens-ness of the science in the film made it much easier to follow than many other films in the same vein.
"A Wrinkle in Time" was released on March 9, 2018

The film is Directed by Ava DuVernay

The film stars Storm Reid, Oprah Winfrey, Mindy Kaling, and Reese Witherspoon
Although they avoid outright categorizing it as such, the film is a strong depiction of depression in young people, as well as the all-but-impossible path of recovery; a story that people needed to see nearly as desperately as one about a young woman of color saving the universe.
Similarly, the movie's front half is surprisingly more tear-jerking than the second, and the women that the movie was marketed so strongly on—Winfrey, Kaling, and Witherspoon—are nearly absent for the back half.
The film's soundtrack is also of note. Featuring Sia, Demi Lovato and 1980s soul crooner Sade, it's an inspiring listen. There are only seven tracks with vocals, the rest of the album is dedicated to score, but those seven are sufficient to convey the film's tone.
This film is only the second time that the classic novel of the same name has been adapted for the screen. In a 2003 television movie, Alfre Woodard played the character now brought to life by Witherspoon. Needless to say, it's an odd transition, but it's clear that since it's creation, the text has inspired diversity and empowerment.
Should you see it? Sure.
The film's message of empowerment and peace is its most prevalent character. Unfortunately, that character steps on the others at times, but considering the novel was originally written for children, it's safe to say that "A Wrinkle in Time" struck all the right chords.
Collegian reporter Nate Day can be reached at entertainment@collegian.com or on Twitter @NateMDay