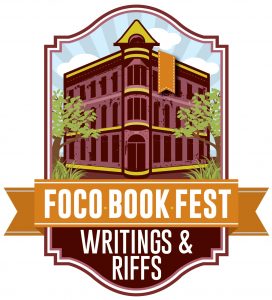 What do the co-founder of Sonic Youth, the lead singer of the Flobots, a Grammy award-winning songwriter, a contributing editor of Rolling Stone Magazine and the Founding Director of the Colorado Music Hall of Fame have in common?
They will all be in Fort Collins this Saturday to talk about their lives' works, both in music and literature.
The FoCo Book Fest is a celebration of literary arts in Fort Collins, and with this year's theme Writings and Riffs, the music world is celebrated too. With nearly 50 speakers at dozens of events, organizer Katie Auman sees something for everybody.
"There are lots of different authors and sessions that everyone should be able to find something to love about this year's lineup," Auman said.
On Oct 21 from 8:30 a.m. to 8:30 p.m., events throughout Old Town pack the Book Fest schedule. At Old Firehouse Books, see a long lineup of musically-inclined authors talk about their work and sign books. Attend writer's workshops at the Old Town Library. Panels covering important social issues and CSU writers' readings can be seen at Wolverine Farm.
Receiving top billing are musicians-turned-authors Kim Gordon and Loudon Wainwright III. Gordon, co-founder of the iconic 80s rock band Sonic Youth, published her memoir "Girl In a Band" to international acclaim. Wainwright, author of "Liner Notes," has had songs covered by Johnny Cash and won Grammys. Both authors will sign books afterwards.
One event Auman would not miss is Ravi Howard's talk on his book "Driving the King," a fictionalized story of the driver and best friend of music icon Nat King Cole.
Between the panels and book signings, there will also be musical performances both in their own right and as part of the presentations. At several venues, Intersect Brewing will vend out a special edition American Blonde Ale called "Liner Notes."
"Will Herdrick, owner and brewer at Intersect Brewing, describes the American Blonde Ale as a 'smooth, easy-drinking crowd pleaser,'" Auman said. "He was inspired to create it by our headlining author-musician Kim Gordon."
The festival is completely free and open to the public, but seating is on a first come, first serve basis. Visit the Book Fest's website for more information.
Collegian Reporter Matthew Smith can be reached at entertainment@collegian.com or on twitter @latvatalo