CSU production of "Three Sisters" experiences rough opening night at UCA
Emma Turner
September 30, 2017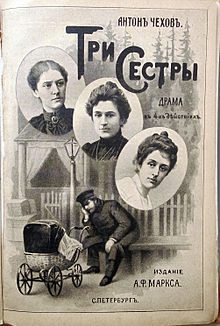 Opening nights almost always feature minor flubs. This was the case Friday night at the University Center for the Arts.
A moderate audience gathered for Colorado State University Theatre's production of "Three Sisters," a play by Anton Chekov. While it was enjoyable in many areas, the opening night jitters got the best of the cast and crew. 
The play is about three sisters who live in small Russian town who dream about moving to the big city, Moscow, and living a more exciting life. 
There were several hilarious moments, many of which can be attributed to CSU student Charlie Hart in his role as Kulygin. His entrances and short exclamations broke the dramatic tension of several scenes and let the audience relax.
Other moments in the evening did not go as planned. A bottle of liquid spilled across the stage just minutes before a container of sugar cubes was flung from the table and spilled all over. This broke the flow of the scene.
The first two acts were somewhat stiff and stagnant. However, after intermission, the cast seemed to relax and add in the dynamics that were lacking in the first half.
CSU student Annabel Wall played Natasha, the character everyone loved to hate. As she relaxed into her role, she added a level of sass to her scenes that brought them to life and made them more relatable to the audience. 
CSU student Kelsey Richards was perhaps the most engaged actress of the show. She maintained character at all times and held easily the most stage presence. From the moment the show opened, the audience followed her. By the end of the show, she commanded the sympathy of the entire room.
Director, Walt Jones, gave little comment on the show. Jones has been working in CSU's theater program since 2006 and graduated from The Yale School of Drama.
The music choice was limited to Tchaikovsky, which matched the period and era but seemed somewhat generic.
The script was quite an obstacle to tackle. The show was successful for a college production. The minimal age of the cast made some roles only partly believable despite their efforts. It was just difficult to imagine a 22-year-old from the 21st century as a 40-year-old in Victorian-era Russia. It was generally difficult to follow and remain engaged.
Remaining show dates:
"Three Sisters" will be performed Oct. 2 through Oct. 8  at the University Theatre in the University Center for the Arts. It is free for students.
Collegian reporter Emma Turner can be reached at entertainment@collegian.com or on Twitter @EmmaTurner1228.