Lana Del Rey's "Ultraviolence" is a down-tempo dream
Her first album gave us that Summertime Sadness. This summer, Lana Del Rey gives us a solid sophomore LP that deviates from her previous work, but provides a melancholy songbook, tailored especially for her distinctive voice.
Lana Del Rey first stepped onto the music scene as Lizzy Grant in the mid 2000s. With little commercial success, the singer changed her strategy and introduced the new persona Lana Del Rey. Her home-edited music video for the single "Video Games" blew up on Youtube in 2011, placing Del Rey on the fast track to stardom.
Fast-forward to 2013. After drawing her career defining Born to Die era (encompassed by a debut album Born to Die, a follow-up EP Paradise and short film Tropico) to a close, Lana Del Rey had a difficult task. The sadcore pop empress had excited many with Born to Die, a bluesy debut influenced by classic hip-hop and Hollywood glamour, while simultaneously accumulating a band of haters online, convinced that Del Rey's beauty-queen Americana image was a trashy gimmick.
Lana Del Rey became one of pop's most unlikely and unexpected stars and had to face the struggles every artist must face moving forward. With a solid fan-base (and a solid group of skeptics still hanging on), the singer had to maintain the sound that got her famous, while introducing enough new elements to promote her own musical evolution and keeps fans engaged.
Well, it worked.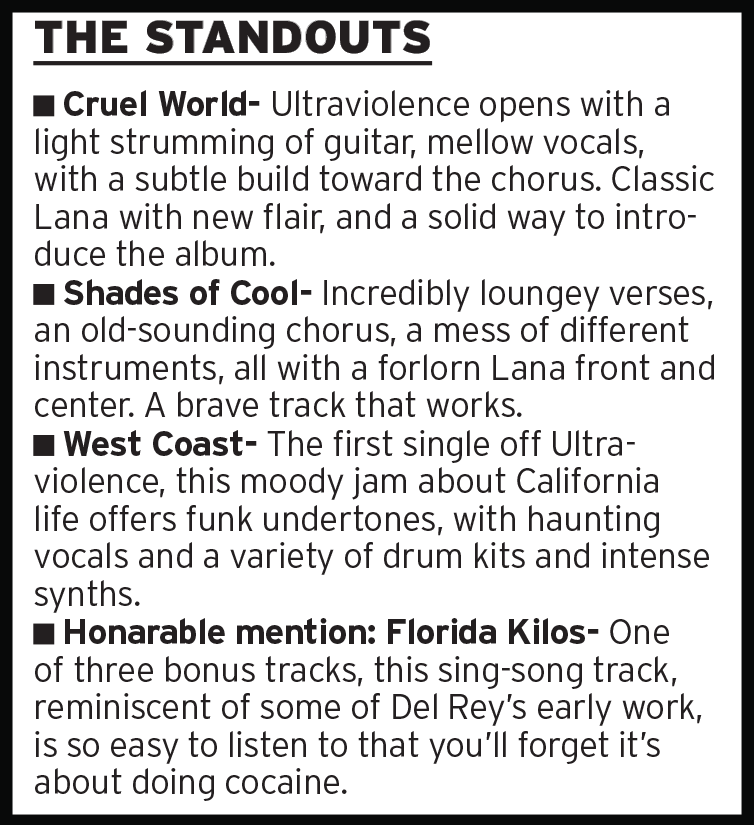 Ultraviolence is notably darker than Born to Die and Paradise, in tone and subject matter. Throughout the album, Del Rey plays the role of the survivor. The opening track "Cruel World" sets this stage for the album, with Del Rey escaping from a destructive relationship and contemplating on her next move in life.
Each song fits her voice to perfection, building an autobiographical stream track by track that details Del Rey's struggles and triumphs. Upon first listen, certain lyrics strike the listener forcefully and give more depth to the carefully crafted instrumentals and vocals.
Fair warning: Del Rey's music is also not going to be a treat for everyone. Ultraviolence is incredibly down-tempo throughout, maintaining a deliciously dark vibe without ever letting up. It's stunning, but this genre of music surely won't carry universal appeal.
The album's title track "Ultraviolence" plays with strings and piano to deliver a somber and worrisome reflection on sex and its correlation with aggression (closely related to themes explored in A Clockwork Orange, from which Del Rey borrowed the phrase). Del Rey woefully sings, "cause I was filled with poison, but blessed with beauty and rage… He hit me and it felt like a kiss."
Lyrically, Del Rey travels to gritty places that many artists don't venture into. Poetically formed yet relatable, Del Rey is candid with her listeners. Songs like the self-reflective "Sad Girl" explore the frustration of being undermined and neglected by a partner, while "Other Woman" blatantly states that being a side-chick to a man is no way to live.
Each song tells a story and helps to move the album forward, a trait that wasn't quite present during Del Rey's debut LP. While catchy songs like "Diet Mountain Dew" and slow-downs like "Carmen" were interesting additions to Born to Die, they seemed like filler and didn't contribute greatly to the overall picture of the album.
Of course certain songs on Ultraviolence are better than others, but no song feels randomly thrown in. As one track ends, it beautifully flows into the next and continues the album's story.
It's clear that Del Rey turned away from the mainstream to embrace her strengths. Her sultry, old-fashioned voice is perfect for this album, which wanders through incredibly down-tempo and melancholy waters. Songs like "West Coast" take risks, like slowing down the tempo for the chorus, rather than speeding it up for an intense climax.
While the album is a triumph for the singer, it is clear that her best content is put toward the beginning. Each track is unique and provides something different, but the last several songs blur together while listening to the album in full. They are great in their own way but suffer from similarity when arranged back-to-back.
The album's dreary vocals, mixed with honest lyrics and unique instrumentals, add new elements to Del Rey's already established sound. With Ultraviolence, Lana Del Rey shines, giving listeners a bold and daring collection of music that is atypical to the average summer pop release.
Collegian Features and Entertainment Editor Keegan Williams can be reached at entertainment@collegian.com