Outdoor Couples of CSU
Trigg Skoe
February 4, 2019
Sponsored Content
Holli Holmes and Sam Ruhala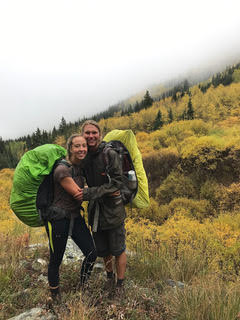 Holli and Sam love getting outside together whether that be hiking into the mountains for a week or doing a quick trail run after classes. Sam loves to fly fish on the Poudre and Holli enjoys shredding the trails on her mountain bike.  Both Holli and Sam are seniors at Colorado State University, Holli studies Fish, Wildlife and Conservation Biology and Sam is studying Geography and Environmental Science.
Ellie Moore and Trigg Skoe
Ellie and Trigg are your everyday dirtbags in the van down by the river. They are both whitewater raft guides during the summer and love to whitewater kayak. Ellie likes to stay on land a little more and crushes it at rock climbing. She just graduated from CSU in December studying Natural Resources Recreation and Tourism. Trigg is finishing his degree in Geology Education.