Stevens' heroics help Rams avoid Fresno State's late comeback
The Colorado State University men's basketball team needed a little bit of everything to win their first round matchup against California State University, Fresno in the Mountain West Conference tournament. Ultimately, it was some classic Isaiah Stevens magic late in the game to win it.
The Bulldogs did what they could to hang around in the first half, but came back to take a three point lead late in the game. But Stevens, who finished with 19 points, would score a tough and-one bucket to tie it and eventually a floater in the paint with a few seconds left to win it 67-65.
"We prepare for these moments almost every single day after practice, so this isn't my first time going through all this," Stevens said. 
From the perspective of John Tonje, who led the Rams with 20 points, the game plan is pretty simple. 
"Just get out the way, to be honest," Tonje said. "It's a read for both of us, but he opened up, got downhill and made the play."
The game was neck and neck for the first 15 minutes or so, with every Rams basket being answered promptly by the Bulldogs. Then CSU started to take control of both ends of the floor, forcing two shot clock violations late in the half that resulted in five points between the two of them.
"We're playing as well as we've played all season here in the last three weeks. I think it's a direct correlation between John (Tonje) playing some of his best basketball of the season." -Niko Medved, CSU men's basketball head coach
Another difference maker in the first half was how clean the Rams were able to play their defense. While they committed six fouls in the first half, the Rams didn't give up any free throws. Conversely, the Rams scored 10 points in the half on free throws alone.

The second half was a different fouling story. In just the first 8 minutes of the half, 13 total fouls were called between the two teams. 

"It can (disrupt the rhythm) a little bit," Stevens said. "But you gotta learn to play without fouling. … It can be frustrating at times, but we had some (fouls) go our way."

All-Mountain West First Team point guard Stevens had a quiet first half, but started to take over in the second, scoring 12 of his 19 points. And like he's done so many times before, he stole the game away with the late bucket.

But it didn't come without a little bit of drama.

CTV Sports

Stevens hit the game-winning shot with 2.7 seconds left on the clock, then the Bulldogs baseball-passed it to Isaiah Hill, who turned around and nailed a deep three — but Fresno took a timeout before he took the shot. So no bucket there, but Fresno still had the ball with 1.9 seconds to go. After a deflection on the inbound that went to review and confirmed it was CSU's ball, the Rams just had to get the ball in bounds to win.

Tonje, who scored 11 of his 20 points in the first half, has been having one of the best stretches of games in his career. Since the start of February, he's averaged just under 18 points a game and the streak has continued into this conference tournament — at least for the first game.

For head coach Niko Medved, it's great timing.

"We're playing as well as we've played all season here in the last three weeks," Medved said. "I think it's a direct correlation between John (Tonje) playing some of his best basketball of the season. He's a huge part of what we're doing and he can score in so many ways. When he's really playing at a high level, we're a different team, and I think that's been a huge key to us playing a lot better here down the stretch."

With the win against Fresno State, the Rams will play the No. 1 seeded San Diego State University tomorrow at 1 p.m. MST. The Aztecs have beaten the Rams in both of their matchups this season, but the only goal for the Rams now is to survive and advance.

"San Diego State is so unique," Medved said. "They're older, they've been here before. … One thing about San Diego State tomorrow, there's not gonna be a lot of gimmicks. We pretty much know what it is going in, and we just have to be able to take that on."

Reach Braidon Nourse at sports@collegian.com or on Twitter @BraidonNourse.
Leave a Comment
About the Contributor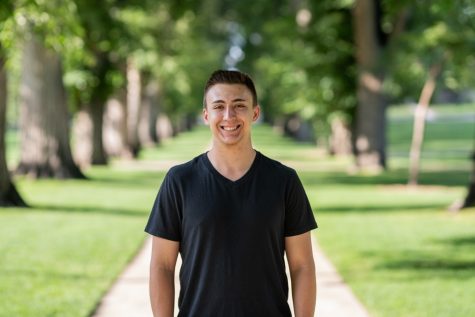 Braidon Nourse, Sports Editor
Braidon Nourse is the fall 2022 sports editor for The Collegian. He started working for The Collegian in November 2021 as a sports reporter but has taken...