No. 8 Rams upset over No.1 San Diego State just wasn't meant to be
The scene from Las Vegas: The Rams are down three against San Diego State University with 0.7 seconds to go after a late Nathan Mensah free throw, and everyone in the building knows Isaiah Stevens is getting the ball. Isaiah Rivera inbounds it, Stevens catches and fires a prayer from beyond half-court.
It hits the rim and bounces out. Aztecs win, 64-61.
But just to stay in a three-point game with the No. 20 team in the nation is tough, especially for a Colorado State University team that's struggled to win many games.
"We just came ready to play. We competed, we had an edge to us, we were aggressive. … I thought we did more than enough on that end to give ourselves a chance." -Niko Medved, CSU men's basketball head coach
Las Vegas, for the most part, is supposed to be a neutral site for the Mountain West Conference basketball tournament. But it wasn't that way for the first quarterfinal matchup between San Diego State University and CSU Thursday, as the Thomas & Mack Center was packed with Aztec fans.
The Rams came out swinging against the Aztecs despite the hostile atmosphere. John Tonje led the pack, scoring 11 of the Rams' first 15 points on the way to leading all scorers with 17 in the game. 
"I think (the competitiveness) just preaches to our culture, our team and the guys we have," Stevens said. "Even after the season that we've had with all the ups and downs, we never flinched, we never backed down from any opponent. … It just comes down to executing."
While Tonje led the way on offense, the entire team was locked in on defense. In the first half alone, the Aztecs gave up eight turnovers that led to 7 points for CSU.
"We were awesome on that end," head coach Niko Medved said. "We just came ready to play. We competed, we had an edge to us, we were aggressive. … I thought we did more than enough on that end to give ourselves a chance."
That aggression translated throughout the game to scoring in the paint, particularly against the Aztecs' big, tall defenders inside. After struggling against Fresno State yesterday only scoring 14 points in the paint, they tied the Aztecs in that category with 30 points.
"If you would have told me before the game that we would have been even in the paint, 30 and 30 in the paint," Medved said. "We had 14 points off turnovers, they had one. I mean, those are pretty good numbers. … We're one of the top teams in the nation in two-point field goal percentage, and that's what we do. I thought we did a really good job of being aggressive that way."
Neither team led by more than the 8-point lead that CSU held at the beginning of the game when it was 8-0. After the Rams got out to that caliber of a start, the key for the Aztecs was to slow the tempo and play the way they know how.
The Aztecs would get themselves back in the game and it was a heavyweight boxing match the rest of the way. By the end of the game, there were 11 lead changes to go along with nine separate ties.
Down two points with 10 seconds left, Stevens crossed over to his left, floated to the midrange just outside of the paint, and pulled up for a jumper he usually hits. But the ball rimmed out, which was the theme of his day shooting 5-20 from the field. Patrick Cartier got the rebound but fouled Mensah on the way down, leading to Stevens' last second heave that very nearly forced overtime.
"It's pretty frustrating," Tonje said. "Every game is a game of its own, and today just happened to be another one of those. But yeah, we've had a lot of close games this whole season. … Today we fell short."
Aztecs head coach, Brian Dutcher, has been in a number of these kinds of games against CSU. Even though his team is the one moving on to the Mountain West semifinals and eventually to a berth in the NCAA tournament, he continues to have nothing but respect for what the Rams have done this season.
"Niko Medved and his staff do a great job," Dutcher said. "Stevens and Tonje are really hard to guard, and they've got good smart players around them. This was a hard-fought win and we knew it would be. 
"(We talked about how) Colorado State is very good, they play hard, they play the right way. They're connected, and that's a credit to Niko and his staff. To have the challenging losses they've had and continue to bring it every day, and play as hard as they can and as well as they can together. … We were fortunate to win, we all know that."
Reach Braidon Nourse at sports@collegian.com or on Twitter @BraidonNourse.
Leave a Comment
About the Writer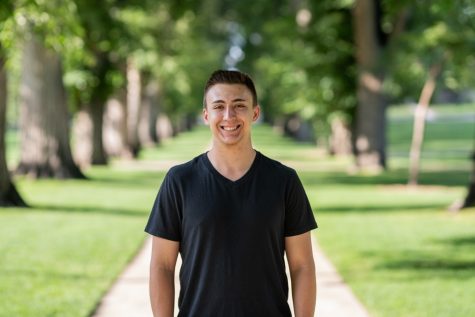 Braidon Nourse, Sports Editor
Braidon Nourse is the fall 2022 sports editor for The Collegian. He started working for The Collegian in November 2021 as a sports reporter but has taken...