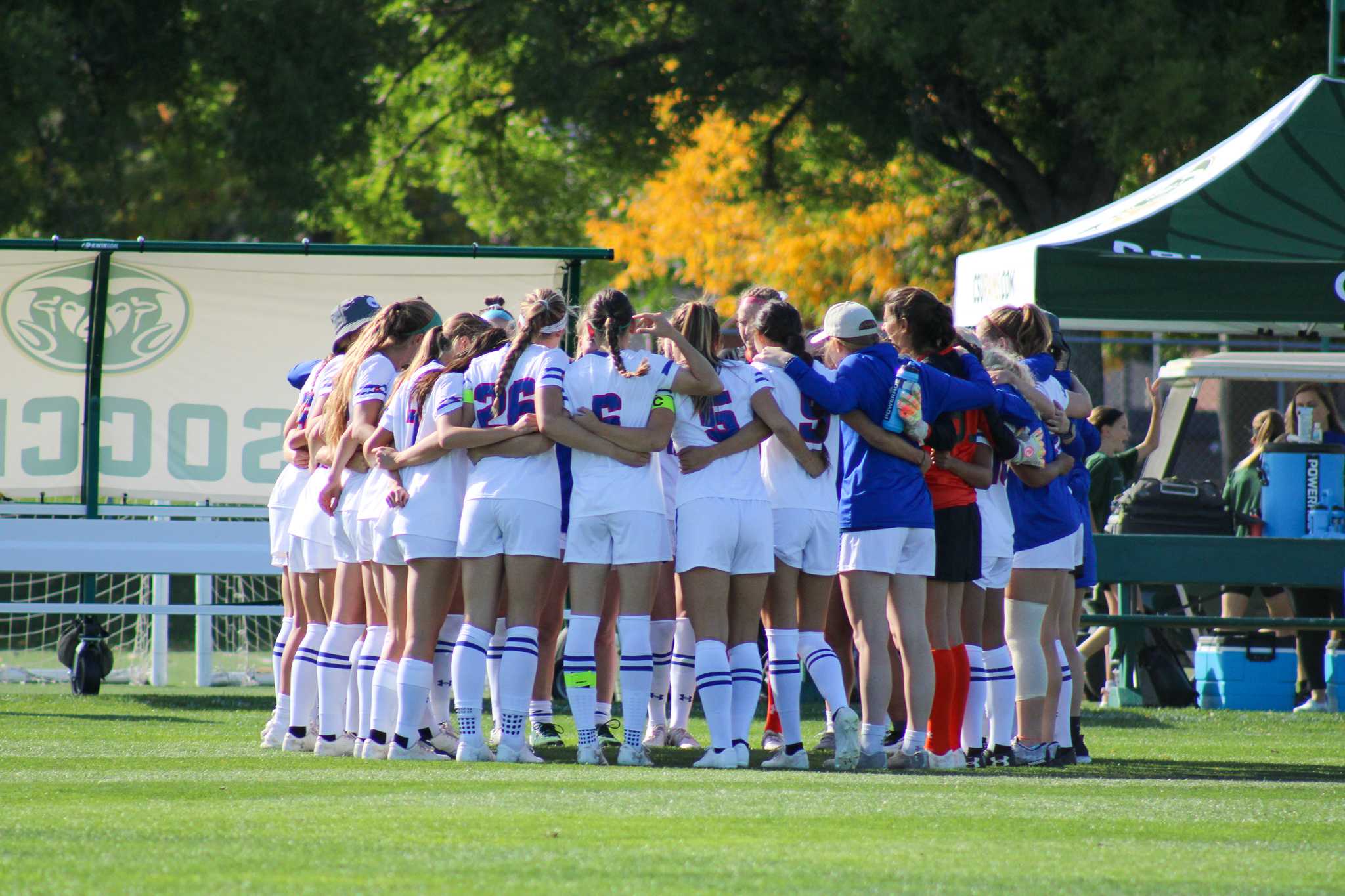 It was a heartbreaking Monday morning in Boise, Idaho, for the Colorado State soccer team as their 2021 season came to an end following a 1-0 defeat by Utah State University in the 2021 Mountain West Women's Soccer Championship.
This is the second time the Aggies have gotten the better of the Rams in the last two weeks, which leaves Colorado State with a final record of 6-8-3 in their first season under new head coach Keeley Hagen.
This one hurt. It wrapped up all of the most frustrating parts of the Rams' season in one game. Colorado State was arguably the better team throughout the contest, outshooting Utah State 14-8 with a plethora of chances for the Rams to change the final outcome. However, inexperience and an ample supply of bad luck ultimately led to their downfall.
It looked like Colorado State was going to get the breakthrough in the first 15 minutes when a dangerous cross from Caroline Lucas forced Utah State keeper Diera Walton into a save.
This team will feel the departures of senior leaders like (Kristen) Noonan, (Gracie) Armstrong and Samantha Studt, who have been staples of the team for years."
About 15 minutes later, the Rams found themselves exposed, leaving Ashley Cardozo with a wide-open shot from 10 yards, but Shayna Ross made a spectacular save of her own, jumping to her right to keep it 0-0 going into the half. 
It didn't take long for Cardozo to get her revenge against Ross, however. Four minutes into the second half, Cardozo sent a rocket of a shot that not only landed in the back of the net to make it 1-0 for Utah State but also landed Cardozo a spot at No. 7 on ESPN's SportsCenter Top 10 Plays for Nov. 1.
The Aggies defended their lead until the full-time whistle, despite late pressure from the Rams. The Rams team powered through a lot of struggles this season and has a lot they can be proud of. Here are your season leaders for the Rams:
Goals: Kristen Noonan (7), Gracie Armstrong (6), Kaitlyn Abrams (3)
Assists: Armstrong (5), Liv Layton (4), Lucas and Noonan (2)
Points: Armstrong (17), Noonan (16), Layton (8)
Saves: Amanda Green (37), Ross (32)
With year one in the books, we can also reflect on the performance of Hagen. All things considered, Hagen did well to get her team prepared for the season, and her accomplishments deserve some praise. She steered the Rams to their longest winning streak in program history, clinched a spot in the Mountain West championship for the second time in program history and finished with a 0.500 conference record at 5-5-1. Not bad for your first season in charge.
That's not to say the season went perfectly. Throughout the year, we saw this team struggle offensively for much of the first half of the season. Theyalso struggled to defend from set pieces, which led to them conceding too many goals in games in which they could have pulled out victories with a little more discipline. However, I think it speaks volumes that the team was able to overcome all of that and still find themselves among the best in the conference.
This team will feel the departures of senior leaders like Noonan, Armstrong and Samantha Studt, who have been staples of the team for years. But young players showed a lot of promise this season, and it'll be exciting to see how well Hagen is able to recruit talent going forward.
There's no doubt that this program is in good hands, and we should be excited for the future of Colorado State soccer.
Reach Bailey Shepherd at sports@collegian.com or on Twitter @B_Sheps.