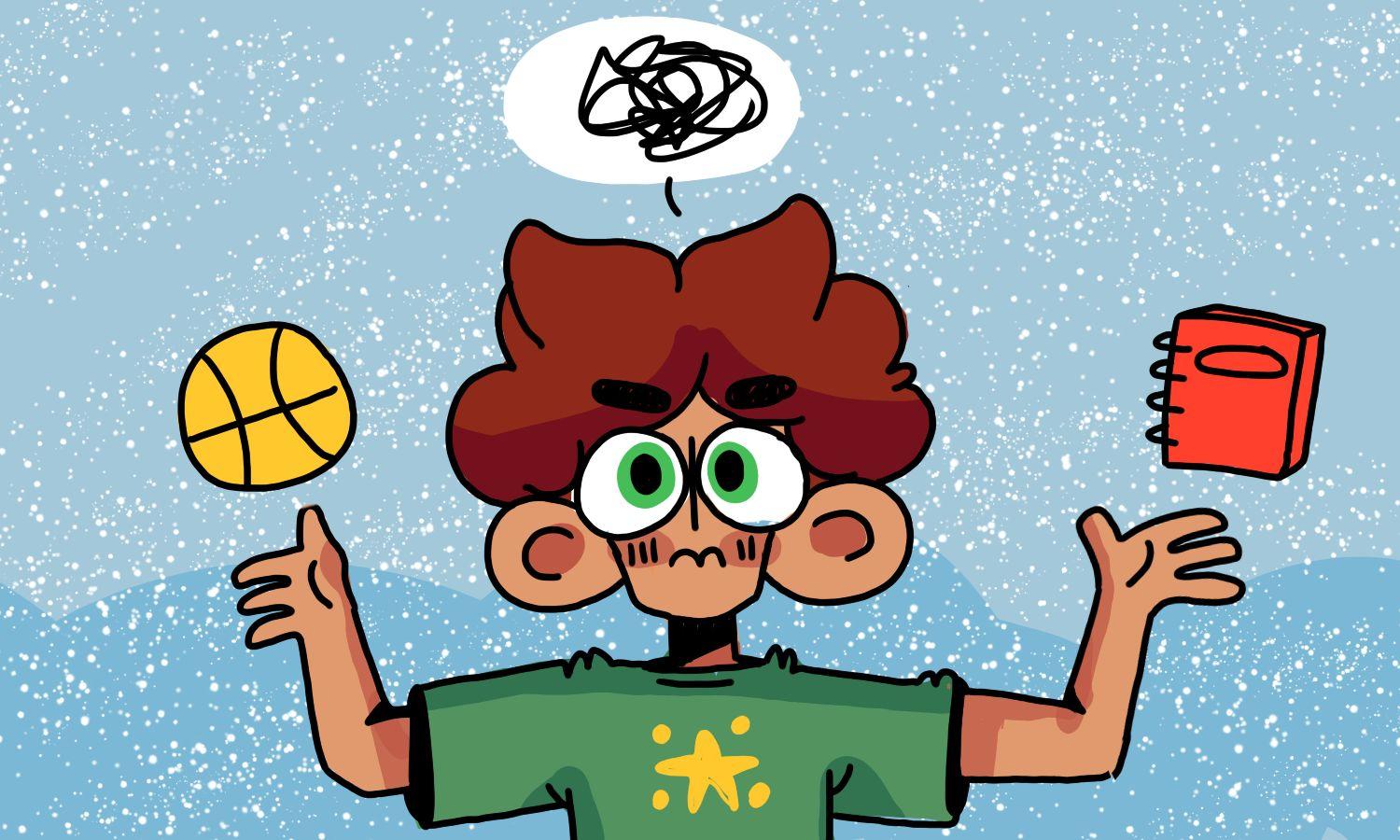 As the Colorado State University campus gets colder and students count down the days to fall break, CSU athletes are in the middle of their seasons. 
Now that students and the public are allowed to fill up the stands again for the 2021-22 fall sports seasons, the players are diving right back into their packed daily schedules. As many know, the struggle to balance college life is a battle in itself, but for athletes, it could be described more as a lifestyle. 
Wake up at 5:30 a.m., head to campus for an hour-and-a-half practice then head to weights for another hour and travel deeper into campus for a day full of classes just to head back to practice in the afternoon for another hour and a half.
Sound exhausting? Well, CSU tennis player Lucia Natal spends almost every day like this, with the exception of Fridays, when she goes to practice for two and half hours in the evenings instead. 
"It's kind of stressful at the same time because we practice 20 hours per week, and the schedule is pretty tight, and I have classes at the same time," Natal said. 
The concept of calling a sport a job shouldn't be foreign to anyone spending 20 hours a week at practice — plus competing and still being a student — but hundreds of CSU students take on the challenge with excitement.
"But I don't usually take it as a job because I enjoy it," Natal said. "That doesn't mean that you can always enjoy a job, but it's a sport, and I decided to be here."
With intense schedules like this, athletes learn quickly how to master the craft of time management, so when they get a little free time on their hands, they're quick to grab it. It's hard to understand how these Rams have any other hobbies than going to practice and class. 
Although it's a tight lifestyle to have, like any student at CSU, athletes still have lives outside of their sport life, and many are taking advantage of living in Colorado. 
"I like biking and running; I like to bike at Horsetooth (Reservoir), but usually during the week it's just class and soccer," said junior club soccer player Max Henderson. 
Henderson and his teammate and roommate Shamus O'Leary get a little extra casual time being club athletes — but just slightly. The CSU men's club soccer team practices for two hours three days a week and usually has games on the weekends. 
For these guys, those days off should be enjoyed, but Henderson and O'Leary are majors in mechanical engineering and chemistry, respectively, so having student in front of athlete for these players might be a higher priority — but also less stressful being in a club sport. 
"We're both doing some pretty hard majors, so it can be challenging sometimes, balancing wanting to do homework and having games and practices," Henderson said. 
The thought of having such busy schedules is rather anxiety-inducing, but CSU athletes are willing to put in the effort for their school and bring back wins for their teams. 
I think here at Colorado State, there's a big sense of being proud of your school, which is something that I love." -Lucia Natal, CSU tennis player
Some even crave more.
"I'd like to go back to how it was our freshman year, when it was five practices a week," O'Leary said.
When being involved in a club or Division I sport, though, you generally have to have some experience in that line of sport. That being said, many of these athletes have spent years playing and found a love in what they do as well as a new sense of community. 
"I love just getting to see the girls every day, and it's like having a second family away from home," senior women's club lacrosse player Jordyn Bashore said. "You're happy with them, you cry with them, they see you at your best and worst and you get to know each other very well."
Having the support of teammates that are going through the same thing as you can help the overall mindset you need to achieve this level of organization. Yet having that time alone and having to not think of practice and assignments comes rarely. 
"I feel like a lot of times, so much is expected of college students, and we're balancing and juggling so much that it'd be good every once in a while to have a night to yourself or a day without practice," Bashore said. 
Making time for yourself is always important, but keeping the momentum to push your mind and body for a full season and semester can be quite stressful. 
"If you do something every day, yeah, you don't feel like doing it," Natal said. "But those days are where you kind of get better and get along with your team." 
When those days of dread come up, athletes find a new level of mind over body and push themselves to still be competitive and strong students. 
"I have fun a lot of the time, but sometimes you have to get up early in the morning after being up late finishing up something — that's not always the most fun," said senior volleyball player Alexa Roumeliotis. 
While having motivation to get up every day and perform at the college level, these Rams appreciate being able to wear the green and gold. Living in a college town definitely comes with its perks when you commit so much of your time to a university. 
"I think here at Colorado State, there's a big sense of being proud of your school, which is something that I love," Natal said.
There's a constant battle between prioritizing being a student or athlete, and those two tend to trade spots on which comes first. However, the CSU athletes continue to succeed while still making their school and teams proud. 
Check out all the CSU athletics schedules and club schedules to stay up to date on when the Rams compete for the remainder of the fall season. 
Reach Taylor Paumen at sports@collegian.com or on Twitter @TayTayPau.