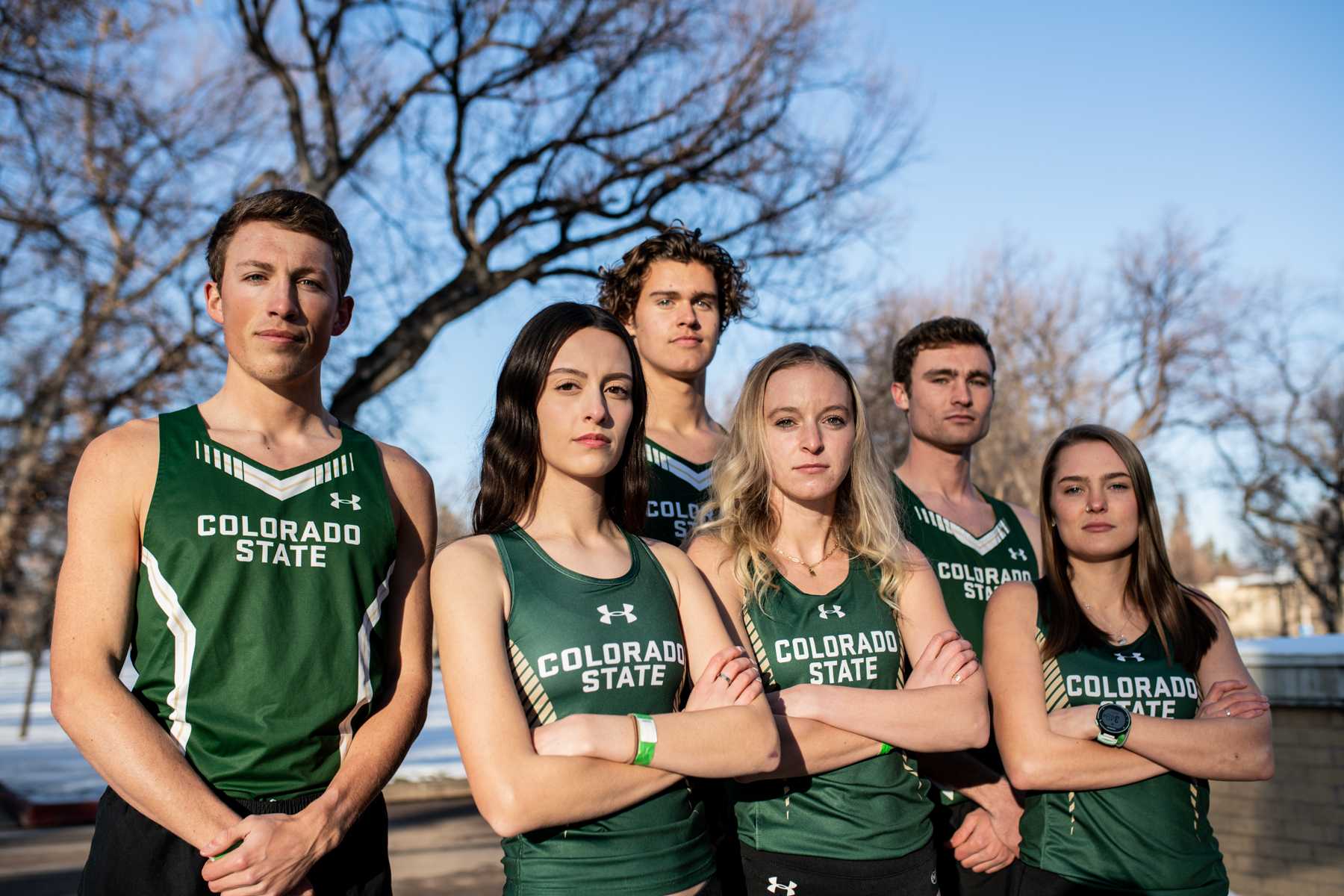 Frigid temperatures, skin whipped red from the wind and dual first place finishes for the men's and women's Colorado State University cross-country programs were the results of Saturday's snow-ridden 3.73-mile meet against the University of Wyoming.
For the Rams, it was their first cross-country meet since the National Collegiate Athletic Association's regional competition in November 2019. Too much time off can often be a ticking time bomb for teams, but for head coach Art Siemers, it was an opportunity to build the program's strength rather than wait for rust to form.
Cross country in @CSUTrackFieldXC & @wyo_track toed the line for a dual meet this morning in Cheyenne, Wyoming.

It was a balmy 34° at race time. pic.twitter.com/8jMn2t7xYw

— USTFCCCA (@USTFCCCA) Jan. 23

"When I knew we were not going to have a fall season in late summer, I felt it was important to have something to train for in October so we could get in a shortened cycle of training," Siemers wrote in an email to The Collegian. "The shortened training cycle allowed us to take a longer break and a better base mileage buildup going into the winter season."
Considering the men's and women's teams occupied eight of the top 10 finishers in both of their respective races, Siemers' athletes are looking as confident as ever as they get back into competition.
Running unattached, out of eligibility for cross-country and awaiting his final outdoor track and field season for the Rams, All-American Eric Hamer finished first in the dual. But it was uniformed finishers Thomas Chaston, Tanner Norman and fifth-place finisher Jacob Brueckman who solidified the men's victory for CSU.
"A race never really lies," redshirt sophomore Chaston said in an interview. "You can do as much as you want in training but when it comes to race day, races don't lie."
Chaston's words ring true, but perhaps his final time of 18:10.2 gives even more insight into the impressive nature of the Ram victory.
Chaston's strong start to the season earned him the men's Mountain West Cross-Country Athlete of the Week honors, just the most recent accolade this men's team has acquired. Picked to win the men's division of the Mountain West Conference in the preseason polls and currently ranked 20th in the nation by the U.S. Track and Field and Cross-Country Coaches Association poll, the Rams are poised to improve on 2019's 11th place finish at the men's NCAA Mountain Regional meet.
Chaston Named Mountain West Cross Country Athlete of the Week

That's ✌️ all-time for @thomas_chaston !

https://t.co/pGbz4S72El#ProudToBe | #XCRams pic.twitter.com/IAh4EsTfgA

— Colorado State T&F/XC (@CSUTrackFieldXC) Jan. 26
But anyone that runs cross-country will tell you that although you may be timing the individual, this is undoubtedly a team sport. When competition was not promised, this program turned inwards to find the motivation to keep pushing.
"There's just been so many days where somebody's not feeling it, … and you're just not sure if you even want to be out there running today," redshirt junior Lily Tomasula-Martin said. "Then you see all your teammates doing it, and it's like, 'Well, if they're doing it and they can stay positive, then I need to stay positive and keep doing it.'"
The need for positivity as a driving factor was clearly not an issue this weekend as the CSU women were equally ready for the challenge. Tomasula-Martin finished first in the women's race with a time of 21:17.5, followed by Rams Lauren Offerman, Sarah Carter and fifth-place finisher Ivy Gonzales.
Due to the Rams' dominating start to the year, it could be assumed that there will be mounting pressure to perform as the season continues, but for the athletes, the pressure is put far to the wayside in favor of one thing: gratitude.
"I just felt really grateful that we had this opportunity," Tomasula-Martin said. "I think that it's easy to get really mixed up in a bunch of pressure, hoping to do the best, or exceeding everybody's expectation, but I think really what it came down to for me was just feeling really happy that I even had an opportunity to put on the singlet and spikes and just get out there and race because that hasn't been something that we've been able to do."
Chaston expressed a similar sentiment, "It started to feel real again."  
There is a sense of pride when you get to put the uniform on and you get to go line up with your teammates … it was a cool feeling, and I've been waiting a while to get to do that." – Tanner Norman, cross-country athlete
To love your sport and embrace its struggles day-in and day-out, especially when future opportunities for competition are uncertain, is a daunting line to teeter on as an athlete and an important factor to consider as a coach.
According to Tanner Norman, the Rams' second uniformed finisher in the men's race, "Siemers did a really good job of keeping us engaged and getting us to continue through and cycle through the fall as if it was a regular season."
This meet could not come soon enough for Norman as it was his first opportunity to don the green and gold for the cross-country program after transferring from Iowa State University in January 2019.
"There is a sense of pride when you get to put the uniform on and you get to go line up with your teammates," Norman said. "It was a cool feeling, and I've been waiting a while to get to do that."
Comparing the differences between the Cyclones and the Rams, Norman talked about the "individual liberty" Siemers gives the athletes. For Siemers, the reasoning behind this stems from his own experiences as a collegiate runner.
[smartslider3 slider=74]
"I ran in college under a very micromanaged coaching style, and it tended to zap my love of the sport," Siemers wrote. Finding athletes with a true love for distance running while simultaneously buying into a team-first atmosphere is at the heart of Siemers' coaching philosophy.
"The mentality that working with your teammates to help them improve will also get you to the finish line fast," Siemers wrote. "It starts in the recruiting process, trying to find athletes that buy into the team-first approach."
A strong team environment will be all the more valuable as the Rams head into a shortened season for the rest of their spring.
"The biggest difference is normally you qualify for nationals at regionals, and this year there is no regionals competition, so it comes down to our conference meet," Tomasula-Martin said.
Luckily for the Rams, their conference meet will not be on an unfamiliar course. The Rams will compete in the University of Nevada, Las Vegas Invitational on Feb. 19, which will be the same course for the Mountain West Conference Championship meet two weeks later.
"Generally, we've been pretty strong at conference, so I think it's just reaffirming that we know we're able run well at conference and we just need to do it again," Tomasula-Martin said.
Siemers is confident looking toward the rest of the season but not without caution. Knowing the unpredictability that shadows sports during COVID-19, Siemers praised the improvement of the squad and awareness to the importance of having depth in a season like this.
"We drastically improved our pack split, and we did our homework over the last year," Siemers said. "With all the uncertainty with COVID-19 and contact tracing, depth could be more important this year."

Scott Nies can be reached at sports@collegian.com or on Twitter @scott_nies98.