CSU defensive coordinator Marty English to retire following bowl game
Colin Barnard
November 26, 2017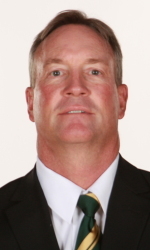 Colorado State head football coach Mike Bobo announced that defensive coordinator and linebackers coach Marty English intends to retire from coaching after the team's bowl game. 
"I want to thank Marty English for his dedicated service to our football program and to Colorado State University," Bobo said in a statement. "Marty has done an excellent job as a coach, teacher and leader of young men at Colorado State for the past six seasons, including the last three with me, and has represented us with class. He is a loyal, dedicated coach and family person, and somebody for whom I have a great deal of respect."
English joined CSU's staff in 2012 as co-defensive coordinator and linebackers coach and held that position until 2014. In 2015, English solely coached linebackers before returning as defensive coordinator for the past two seasons. 
Throughout his 31-year coaching career, English coached at three front range teams in Northern Colorado (1987-2002), Wyoming (2003-2011) and CSU (2012-2017). 
Former CSU linebacker Shaquil Barrett earned Mountain West Defensive Player of the Year under English's tutelage in 2013. He has also coached multiple all-conference players throughout his career.
"Our focus is on finishing this season strong with a victory in our bowl game, for our program, our coaches, our student-athletes and our fans," Bobo said.
Collegian sports editor Colin Barnard can be reached by email at sports@collegian.com or on Twitter @ColinBarnard_.