McElwain discusses football's spring development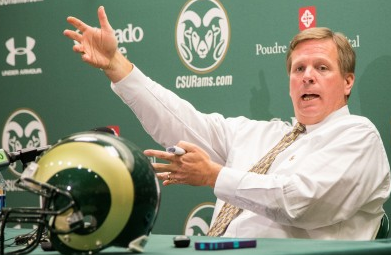 In the eyes of Athletic Director Jack Graham, the best quality head football coach Jim McElwain possesses is his insatiable thirst for greatness.

"Mac's response to whether or not he was pleased with going 8-6 was kind of a ho-hum answer," Graham said after last season's finish. "That's why I love the man so much; our collective standards are much higher than that. This program has turned around and we are moving in the right direction."

The right direction — a straight arrow toward success — continues in earnest with the start of spring football. In his first spring press conference of the season, McElwain addressed everything from minor injuries and position changes to the spring game on April 19.

But as always, the biggest focus for McElwain is the here and now, which means puzzling out new starters to replace the 15 graduates from last year's team.

McElwain's first two springs cost him a few gray hairs as he battled the stress taking on a new and somewhat disheveled program entails. This year, he still has loads of hard work in front of him, but he views it with excitement.

"One of the biggest problems in developing a program is guys understanding what they are supposed to do, when they are supposed to do it, and how they are supposed to do it when they're not used to it," McElwain said. "Before it was like, 'I can't believe I had to do that many reps!' Now, they'll go out and practice hard and won't even blink, that part is good. Making use of the parts that we have is where it gets fun – kind of the mad scientist part."

McElwain's Frankenstein-creation begins with the moves he and the position coaches are making for individual players: slicing them out of their current roles and sewing them back in where they can perform at the optimal level.

Graduating Crockett Gillmore created a void at the tight end position, prompting McElwain to take Nolan Peralta from linebacker and Brett Jordan from the defensive line to help find a partner for senior tight end Kivon Cartwright. But filling Gillmore's gigantic shoes will be a difficult task.

"Kivon is a motion kind of guy, we need to establish an on-the-line guy. I'm not going to say they will be as good as Crockett — that guy is going to get drafted — but we need to find some guys that can do some of that," McElwain said. "We will have a great battle there."

McElwain says the development of the future tight end will weigh heavily on the look of next year's offense. Of course, the absences of Kapri Bibbs and Chris Nwoke at the running back position brings another piece to the puzzle.

McElwain thinks safety Jasen Oden might fit the mold. For spring, he'll be the one running with the ball instead of after it. Oden will compete against returning back, junior Donnell Alexander, as well as up-and-comer Bryce Peters. Peters red-shirted last season, but impressed the coaches on the scout team.

"I'm excited to see Bryce at running back, I think he has a bright future," McElwain said.

Regardless of the final line-up — which won't be final until the Rocky Mountain Showdown if last year is any indication — McElwain will work on sculpting a team worth watching. It's what Graham hired him to do, and it's what he continues to strive for one practice at a time.

Collegian Reporter Cali Rastrelli can be reached at sports@collegian.com and on Twitter @c_rasta5.