CSU football defeats UTEP in high-scoring affair
In their highest scoring game since 1997, the Rams posted 59 points on the board in a victory over the University of Texas at El Paso in their fifth consecutive home win Saturday at Hughes Stadium.
Quarterback Garrett Grayson threw for 307 yards and three touchdowns, completing 17 of 28 pass attempts as the offense amassed 591 total yards in the Rams 59-42 win.
Running back Kapri Bibbs added 143 yards and three touchdowns of his own in his best career game, leading the ground game to 250 yards for CSU.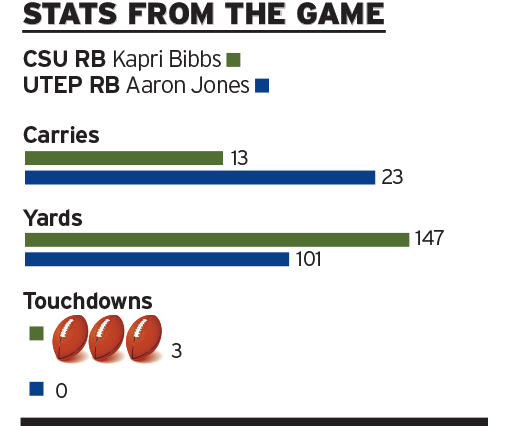 "Coming out of that (Alabama) game, like I said previously, I think that gave us a lot of confidence and showed to ourselves that we can compete against anybody," Grayson said. "We wanted to come out here and just play fast, play smart and I think we did that."
The Rams opened the game with a quick, five-play scoring drive that took less than two minutes off the board. Grayson completed a 22-yard pass to tight end Kivon Cartwright to put the Rams ahead of the Miners 7-0.
The Miners were quick to strike back with a 75-yard drive that took 6:45 off of the clock and ended with a touchdown pass from quarterback Jameill Showers to running back Darrin Laufasa. Showers finished the game with five touchdowns and 363 yards on 26 completions on 43 attempts.
With 4:34 left to go in the second quarter, the Rams faked a field goal on fourth down and receiver Joe Hansley completed his first career touchdown pass to Cartwright to put the Rams up 28-7 at the end of the first half.
The Rams' 21 point lead was quickly erased in the third quarter as the Miners evened the score at 28 with three touchdowns in the first seven minutes of the second half. CSU kicker Jared Roberts missed his first field goal of the season and only the second one of his career, ending his streak of 14 consecutive made field goals.
But momentum quickly shifted back in favor of the Rams when linebacker Shaquil Barrett stripped the ball away from Showers on the following drive, as the ball was recovered by UTEP for a safety to put CSU back in the lead.
"Obviously, you don't like coming out after half time like that," McElwain said. "Shaq Barrett stepped up and really reenergized the team with that safety, and I can't say enough about how he played this football game."
The Rams then rattled off 24-straight points before the Miners scored again on a touchdown pass from Showers to receiver Jordan Leslie with 3:58 left in the game. The final score for the Rams came off a 34-yard run by Bibbs for his third touchdown on the day.
"I thought we showed up and obviously there are a lot of things we can correct," McElwain said. "We put some points on the board which is good to see, and overall we were able to get some guys in the game and I feel pretty good about that."
Injury update
Cornerback Bernard Blake suffered a neck injury in the third quarter and was carted off the field. Blake was taken to Poudre Valley Hospital for precautionary reasons and later released, after which he Tweeted: "Thanks for all the tweets, thought, and prayers!! I have been released from the hospital!! RamNation is awesome"
CSU Football Beat Reporter Katie O'Keefe can be reached at sports@collegian.com. 
If this slideshow does not appear, refresh your browser.
[new_royalslider id="52″]
Related articles