CSU football starting QB job still open ahead of scrimmage Sunday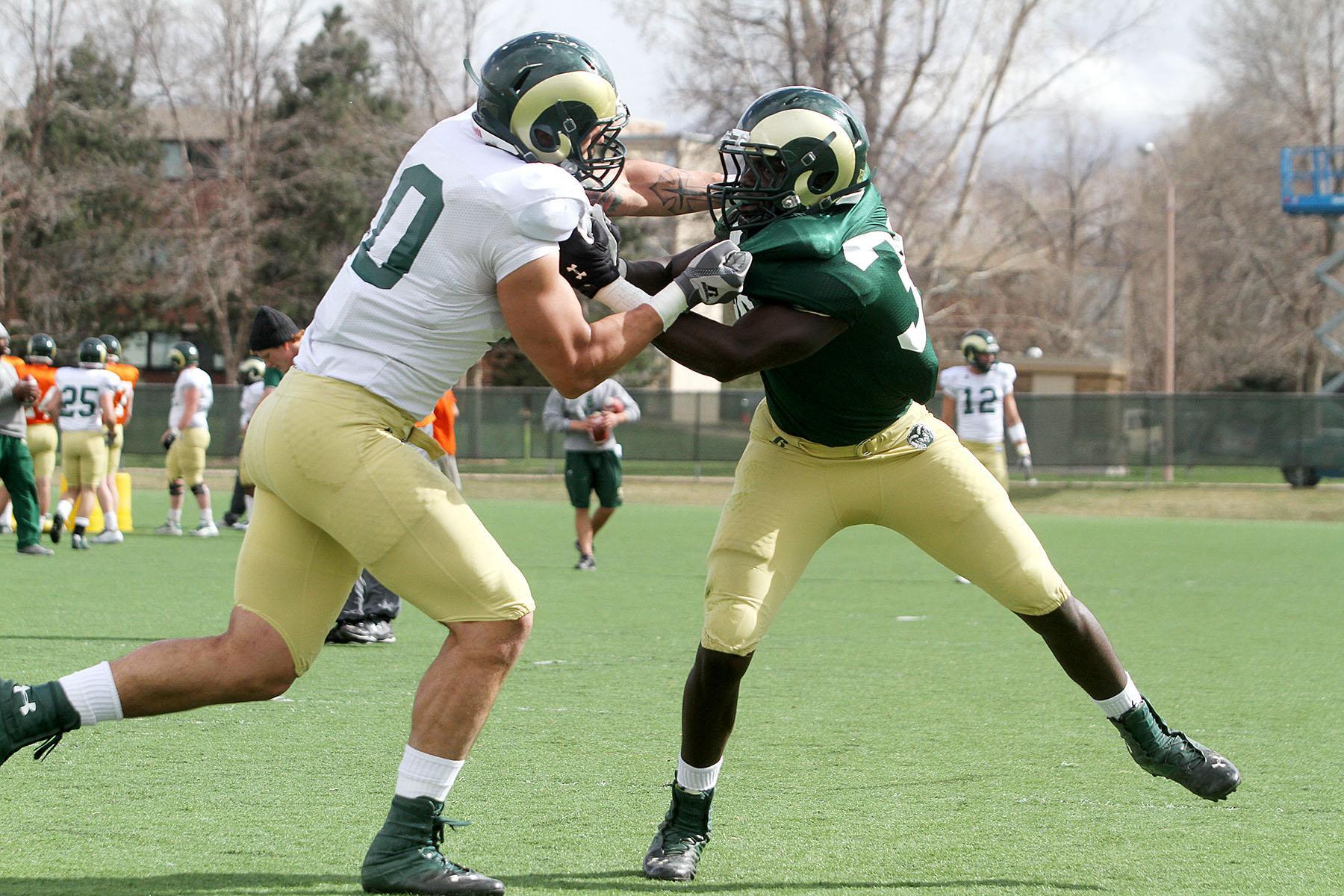 When the CSU football team steps onto the field at Hughes Stadium Sunday for its second scrimmage of the spring, many players will be fighting to stand out to coach Jim McElwain, who has been evaluating his team at every position since the beginning of spring ball on March 26.
"Every day is charted with everything they do in every situation," McElwain said.
"We've got a master sheet that has a lot of different categories in it and some that measure some things that don't show up in the box score. And so that's something we'll definitely evaluate. This is a big scrimmage coming up on Sunday."
The Rams will have a practice that is open to the public tonight at 5:30 p.m. at Infinity Park in Glendale, Colo. before returning to Fort Collins for their second scrimmage, which is closed to the public, Sunday.
Looking to impress McElwain this weekend will be junior quarterback Garrett Grayson and sophomore quarterback Conner Smith, who have been battling throughout the spring for the starting job.
Grayson started in the first five games of the season for CSU last year before a broken collarbone derailed his season, while Smith saw significant minutes while finishing as the Rams' leading passer in terms of yardage in 2012 (1,022).
Though Grayson took most of the reps with the starters in CSU's first scrimmage of the spring last Saturday, McElwain has said that the starting job is still wide open for anyone to take.
"He hasn't said anything to us (about the starter's job)," Grayson said.
"So we're just taking it as a competition every day. We're still splitting the reps evenly, I think, and so we're just taking it day by day and hopefully the time comes soon (when a starter is named). But if it doesn't, we'll take it into the summer and into fall camp and we'll just go with it."
In the Rams' last scrimmage, Grayson furthered his case to become the starter by throwing for 224 yards, two touchdowns and one interception. Smith, who took most of his reps with the second-team offense threw for 101 yards while not throwing a touchdown or an interception.
Both quarterbacks have been aided by an offensive line that has improved over the last year.
In the Rams' first scrimmage of 2012, CSU's defense racked up 20-plus sacks, in this year's first scrimmage they cut that number to 10.
The increased amount of time each quarterback has in the pocket has allowed the Rams' coaching staff to examine the battle for the starting QB position more clearly as the Grayson and Smith now have more time in the pocket to make their reads.
"I kind of laughed about it a little bit (last year)," sophomore running back Donnell Alexander said. "It was pretty much a learning curve for everybody so for us, the offense and everybody developing a little bit. I think that's what we should do: Limit the sacks and run the ball good."
Though the quarterback battle is one that has drawn much interest from those familiar with the Rams, McElwain is looking forward to the opportunity to see his players compete for the in a game-like scenario for the last time until the team's annual spring game on April 20.
The Rams will try to focus on the new schemes they have been working on this spring on both sides of the ball in their scrimmage while focusing on improving in the fundamentals.
"We're definitely gonna look at the things that we're reaching forward with that we didn't do last year both offensively and defensively," McElwain said.
"I wanna get a good film review of that just to kind of see where we're at with a lot of the new things that we're doing."
Assistant Sports Editor Andrew Schaller can be reached at sports@collegian.com