Eustachy says road problems for CSU basketball come from low 'mental toughness'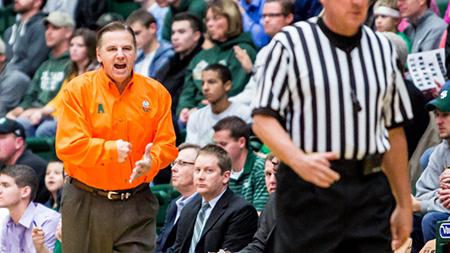 Talent alone is never enough to build a successful program on.
Great teams have the toughness to go into difficult environments and get wins. After a 64-55 loss at the University of Illinois-Chicago on Saturday, it is clear that the Rams lack that toughness — at least for now.
"The problem with our team is that our mental toughness is extremely low," CSU coach Larry Eustachy said. "So what is happening with this team is when they get put in tough environments … they're unsuccessful."
The Rams played well defensively Saturday, and didn't allow Illinois-Chicago to get second-chance opportunities as CSU dominated the boards 41-22.
The problem, however, was the Rams' struggles on offense, shooting just 33.3 percent from the field and committing a season-high 15 turnovers, which turned into 19 UIC points.
"We just didn't make enough plays," senior guard Dorian Green said. "Offensively, defensively we just broke down too much; too many stupid mistakes. They're a good team. They're not gonna beat themselves. Coaches told us all week they weren't gonna beat themselves, so we just didn't make enough plays to beat them."
One Ram who continued his early-season struggles was senior guard Wes Eikmeier, CSU's leading scorer from last year, who shot 0-for-8 from the field while scoring just one point.
In order to be successful through the rest of the season, the Rams will have to get Eikmeier and the rest of their scorers on track.
During their current two-game losing streak, the Rams have had more than half of their total offensive output come from two players.
Saturday it was senior forward Greg Smith and Green, who combined to score 30 of the Rams' 55 points.
The lack of a balanced scoring attack is something the Rams need to address this week as the Rams have a bye week before returning to action Dec. 17 against North Florida.
"What we need to do is get on the practice court," Eustachy said. "I've got these guys for a short period of time. I've looked at the pedigree, looked at the struggles in these situations (on the road)."
Now for Eustachy and the Rams, the challenge is to find a way to prepare for similar difficult road situations even though CSU does not have another true road game on the schedule until the beginning of Mountain West play when they travel to San Diego State Jan. 12.
"We're still learning," Smith said. "We're learning how to win, we're learning how to play on the road. We've just gotta find a way, find a formula that works for us."
Men's Basketball Beat Reporter Andrew Schaller can be reached at sports@collegian.com.