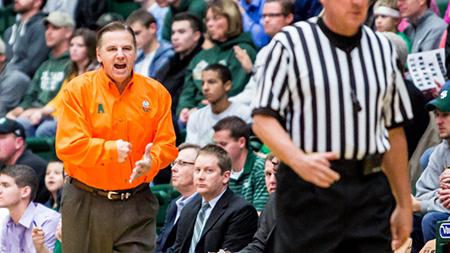 All year, CSU coach Larry Eustachy had said that this week would be the toughest challenge for his team during the non-conference season. After falling 64-55 to Illinois-Chicago Saturday afternoon for their second loss of the week, Eustachy's words seemed to be prophetic.
The Rams got help from senior forward Greg Smith, who scored 20 points, but didn't get much from other contributors who have been critical to CSU's success this year.
Colton Iverson, who came into the game averaging double digit figures in both points and rebounds had the worst statistical game of his CSU career, walking away with only 8 points and 8 rebounds.
Illinois-Chicago came into the game knowing it had to stop Iverson in order to keep up with the Rams and with the help of double teams coming from sophomore Will Simonton and senior Josh Crittle, the Flames held Iverson his lowest scoring total this year.
Senior guard Wes Eikmeier, the Rams' leading scorer from last year, continued his struggles this season, shooting 0-8 from the field and managing to score only one point.
Illinois-Chicago did the little things to take Eikmeier and the rest of the Rams out of their game.
The Flames shot only 38 percent in the game, but turned the ball over 10 times, compared with 33 percent and 15, respectively, for CSU.
The Rams struggled to get anything going offensively once again, even when they managed to get to the free throw line, CSU, a team that averaged a 77.5 free throw percentage throughout the year, missed seven of its 20 free throw attempts on Saturday.
So at the end of the week, CSU wound up losing both of its road games by nine points apiece, continuing their road struggles that date back to last year when the Rams went 3-9 away from Moby Arena. The Rams will need to find a way to correct their mistakes on the road if they hope to perform well in Mountain West Conference play which begins at the beginning of January.
For now, CSU basketball will take a break for finals next week before returning to action Dec. 17, when the Rams return home to battle North Florida.
For more in-depth coverage of today's game, be sure to check out Monday's Collegian
Men's Basketball Beat Reporter Andrew Schaller can be reached at sports@collegian.com