CSU football's offense under new leadership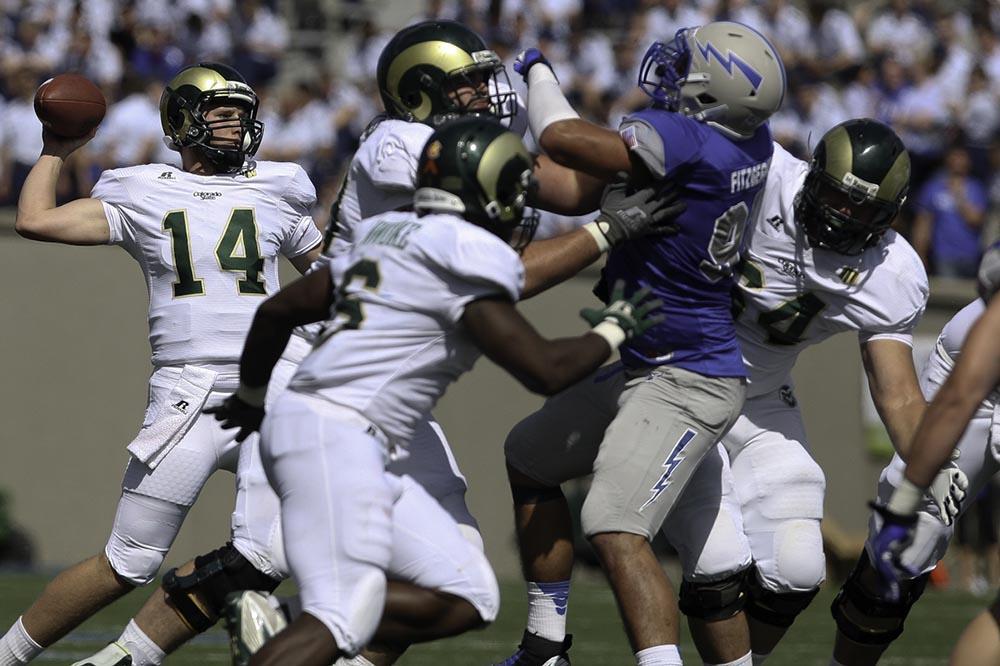 M.J. McPeek almost had to pinch himself on the way back to Fort Collins after his college debut against Air Force to make sure he wasn't sleeping.
He had just thrown for 292 yards and two touchdowns in three quarters. Could it have all been a dream?
"After the game it was just kind of surreal," McPeek said. "Even on the bus ride back you just got to kind of stop and think about 'that really happened?' It's kind of like a dream."
McPeeks' performance was no dream and the reality going forward is he's the man now that starter Garrett Grayson is out after surgery to repair his broken collarbone.
"He's obviously paid his dues," CSU coach Jim McElwain said. "(It's) tIme to move forward with him as our leader, as our quarterback."
The job he's inherited is far from easy. The Rams have struggled to produce offense on a consistent basis in 2012 averaging a mediocre 17.8 points per game on route to a 1-4 start.
McPeek said he felt a spark after he came in for Grayson to start the second quarter and it showed on a 55-yard touchdown pass to Lou Greenwood on the first play. The challenge is tailoring the offense to accentuate what McPeek does well.
"(The scheme) does (change) in some ways because there's a different skill set there and yet at the same time the base part of what you're doing….is no different," McElwain said. "Anytime that position that touches the ball that many times you've got to probably adjust it a little bit to what they do well."
CSU linebacker Shaquil Barrett goes head-to-head with McPeek on a daily basis and knows what he brings to the field.
"He's comfortable making long throws and he's not scared to make a throw. M.J. is just a good leader for the team. He's just a good spirited person, he's a real good person," Barrett said. "I think he can (run), but he's really pass, pass, pass, pass first guy and if it ain't there (running's) like the last, last resort. He can make it happen if he wanted to, but he's going to look for his reads and make a throw down field if he can."
McPeek brings a different skill set and a new voice to the huddle, but the fifth year senior is no stranger.
"We got a good chemistry. I'm sad to see what happened to Garrett, but M.J. stepped in and threw a touchdown on his second pass, which is pretty cool," center Weston Richburg said. "I hope for nothing but the best for him."
When it comes to commanding the huddle McPeek has a clear philosophy — individual communication.
"Make eye contact, try and instill confidence in the offensive line. If somebody's running a special route or something, you make eye contact…and try to instill confidence because that's all it comes down to," McPeek said. "I feel like the old man of the team, everybody kind of looks up and asks questions. I don't know if that helps, I don't know if that hurts. I guess we'll find out Saturday."
Maybe the biggest adjustment between preparing as a backup and as a starter is the level of responsibility that comes with the change in title.
"What I've seen is his study has picked up, it's the nature of being the starter or the backup," McElwain said. "The guys respond to him. He's a guy who's been here, he's a buddy of theirs, all that kind of stuff. It's not like there's a brand new voice, which I think is very good."
Text messages, emails and facebook shout outs came in by the droves requesting tickets to see McPeek start his first game since high school. The pressure has never been higher, but then nobody said being the starting quarterback was going to be easy.
"I'm sure once the game comes around and all that stuff, the hype before the game, I'm sure there will be butterflies and I'm going to have to control that a little bit," he said. "But I kind of like that feeling."
Sports Editor Cris Tiller can be ready at sports@collegian.com.