Utah State quarterback Chuckie Keeton the biggest threat for CSU football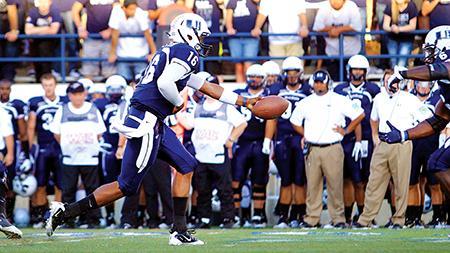 Chuckie Keeton just turned 18-years-old seven weeks before his first start at Utah State against the defending national champion Auburn — on the road.
Utah State lost the game 42-38, but found its quarterback of the future.
Last year Keeton relied on his freakish athletic ability and knack for creating big plays. This year the sophomore has the experience and growth uncanny for someone so young.
"He's a very mature young man," Utah State coach Gary Anderson said. "I give a lot of credit to his parents, the way he was raised, and the way he was brought up. Things matter to Chuckie. Not just football, but in life in general. He's a great leader, and he's a very well-rounded kid on and off the field, so we're very fortunate to have him."
In 2011 Keeton started eight games completing 106 passes in 174 attempts (60.9 percent) for 1,200 yards, 11 touchdowns and only two interceptions. The dual threat quarterback chipped in 293 yards on the ground and four more touchdowns.
What's scarier for opponents this season is Keeton's development within the spread offense Anderson runs at Utah State. Keeton improvised at times last year, but in 2012 he relies more on his knowledge of the offense.
"I think the biggest difference between this year and last year, I've adapted one year further into the system and I can see in myself I'm more calm and I trust the guys around me a lot more," Keeton said. "Last year, I was kind of second guessing a few things, just because I was so new to the system. This year I've been able to see how it works. I've learned a lot through trial and error, and I've definitely grown to be a better player through that."
So far his growth is evident. Keeton already has 701 yards passing, bumped his completion percentage up to 68 percent and has six touchdown passes to one interception.
CSU got the better of Keeton's team in a thrilling double-overtime victory last season, and he has more than gained the attention of the Rams for this Saturday's rematch.
"He's a pretty good quarterback," said linebacker Shaquil Barrett, who faced Keeton last year. "He's mobile and he's accurate, and I heard this year he's better at throwing the ball, and running and being a better leader of the team."
So how do you simulate the kind of rare athletic talent Keeton possess in practice? You don't.
"That's so hard to really kind of try to make sure that you're simulating that speed, quickness and decision making," CSU coach Jim McElwain said. "So what you kind of hope is the speed of the game kind of gets you to catch up to it, because that's obviously very hard to prepare for."
The philosophy to making sure Keeton doesn't burn the Rams this weekend is a simple idea, but slightly harder to implement.
"We would love for him to pass the ball to somebody else, because the ball in his hands, I mean, we're all in coverage and he pretty much got an open field so we've got to come down and make open field tackles," Barrett said. "We're gonna try to have somebody on him every play, and in case we don't we just got to have great coverage and be sound up front."
While Keeton's maturation process has seen him become a more accomplished traditional pocket-passer, nothing beats the rush of making a play on the run.
"Dropping back and scanning the field is definitely fun," he said. "But there's no better feeling than being able to create a play and finding a wide open guy down field."
Sports Editor Cris Tiller can be reached at sports@collegian.com.