San Jose State's balanced attack will challenge CSU football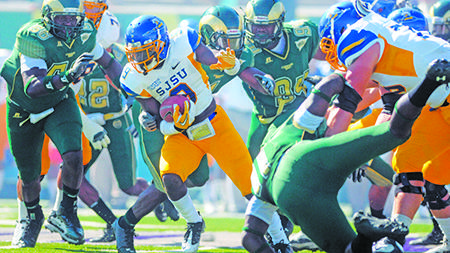 Every football team in the country strives to have a balanced attack on both sides of the ball. That is why San Jose State, the Rams' opponent this week, poses such a challenge for CSU.
Offensively, the Rams already know what San Jose State can do. Last year when the two teams met, CSU saw the Spartans put up 38 points in a disappointing 38-31 loss.
This year, with a new starting quarterback, David Fales, San Jose State has scored an impressive 31 points per game and narrowly missed upsetting No. 21 Stanford in week one, losing 20-17.
"Explosive guys are always what you worry about," CSU coach Jim McElwain said. "And I would say the thing that really makes them go is how their quarterback is playing, and that's the thing I think they've really gotten better at."
Playmakers can be found all over the field for the Spartans in 2012, as Fales has had the luxury this season of the throwing the ball to wide receiver Noel Grigsby, who through two games this year has 13 receptions for 169 yards and a touchdown.
As a junior, Grigsby needs only three more receptions in his career to break the San Jose State career receptions record.
"He doesn't drop anything," San Jose State coach Mike MacIntyre said. "He's just a phenomenal player, has great hands and he's kind of, he's sneaky if that makes sense, when you watch him play you say, 'how did he catch that, how did he get there?'"
Not to be outdone, San Jose State's defense has matched the intensity the offense has brought so far this season. Over the last four quarters of play, the Spartans have held opponents only 16 points, including an impressive second half performance against Stanford, when they held the Cardinal to only three points.
The Rams have said they're hoping to mix up the play calling in an effort to combat the at times aggressive defense of San Jose State.
"They're downhill players," CSU quarterback Garrett Grayson said of the Spartans' defense. "They like to come up and play the run, so we're hoping if we get that run established, get some play action going and hit some deep balls then they'll play back and that'll open up the run again."
Finding receivers open down the field will likely not be an easy task for Grayson, however, going against San Jose State's senior defensive end Travis Johnson.
In the first two games this year, Johnson has lived in opponents' backfields, recording 7.5 tackles for a loss, including a school-record tying performance with 6 tackles for a loss last week against UC-Davis.
But for McElwain and the rest of the Rams, the strength of the Spartan's defense lies in the defensive line as a whole, and not just any individual player.
"Their defensive line does an outstanding job of getting the pressure, but when the pressure is finished, you know, (they're) getting their hands up," McElwain said. "It's just one of those things that it's just kind of over and over, so you know it's well-taught."
So as the Rams try to avenge the disappointing loss San Jose State handed them at home last year, they know that their offense, defense and special teams will have to show up to play in San Jose because by all early indications, it appears that the Spartans will.
Football Beat Reporter Andrew Schaller can be reached at sports@collegian.com.