CSU football suffered from bad week of practice, resolved to change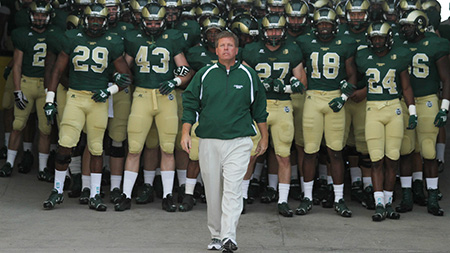 Practice? Are we talkin' about practice?
That's right, the talk inside the CSU football program following a disappointing 22-7 home opening loss to North Dakota State is practice.
"It wasn't our best effort to say the least," center Weston Richburg said Monday. "We weren't prepared, I don't think we prepared well during the week and that obviously showed."
A normal week of practice for the Rams starts Monday with film study and very initial gameplanning for the next opponent, and by Thursday the expectations are high.
Those expectations were not met leading up to Saturday.
"The week of preparation was disappointing," Richburg said. "We had to start some drills over on Thursday, which is supposed to be 'perfect Thursday,' so that was disappointing, and the end product was disappointing as well."
CSU's sloppy performance against the Bison was most notable on offense where the Rams scored just seven points, which came on their opening drive. Quarterback Garrett Grayson never found a rhythm and consequently the offense stalled.
Coach Jim McElwain had his suspicions that the players weren't prepared at the level they needed to be, saying it was partly his fault as a coach.
"What you do in practice comes to fruition in the game, and it goes back to each and every one of us," McElwain said. "We reap what we sow and I think in that is a great life lesson.
"I was nervous for our players because I wasn't sure, and as it came my hunch was probably right."
It wasn't as if McElwain didn't try to communicate to his players the quality of their next opponent. He talked at length about his fear of North Dakota, even saying he'd circled it on his calender when the schedule was released.
"Obviously they didn't get that message," McElwain said. "It hurt, it really hurt. It hurt down inside."
Perhaps the good news to come from last week's failures in practice is that the problem has been identified. Both McElwain and the players acknowledged the need to correct their mistakes before this Saturday's game against San Jose State.
"Preparation will be huge for what we want to do on (this) Saturday. You look at (last) Saturday, that second drive we had penalty after penalty and it ended up being second and a mile, so that was just us shooting ourselves in the foot," Richburg said. "This week we have to focus on being focused and putting drives together, putting plays together and get some more points on the board, because seven points is not acceptable."
The burden of refocusing the team to bring a workmanlike attitude to the practice field will be undertaken not only by McElwain, but the Rams' senior leadership as well.
"As a team we will learn a lot from this. We just gotta focus on not letting this get to us too much because today we got to come back on field and we gotta get back at it," senior Momo Thomas said. "I think practice is (where) we'll learn most how to go out and practice and not underestimate no team, and take the same approach as if we playin' the national champions."
Sports Editor Cris Tiller can be reached at sports@collegian.com.