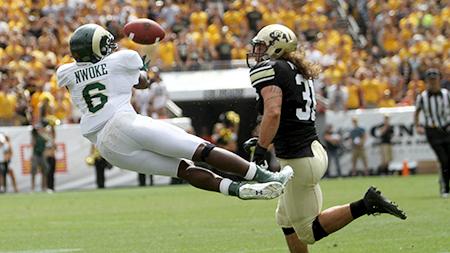 With a major win over a bitter rival, all of Fort Collins is patting the CSU football team on the backs.
They already forgot it ever happened.
"Livin' in the past can only set you up for failure," sophomore cornerback Bernard Blake said after practice Tuesday. "The win was good — it was a short lived win. It was good for the school, for the community and Fort Collins, but at the same time, it's just one win."
The Rams are now brimming with confidence and defeating CU-Boulder in the Rocky Mountain Showdown 22-17 Saturday. CSU coach Jim McElwain gave the team seven hours after the game was over to enjoy it,  ending just around midnight Sunday morning.
McElwain is determined to keep his team from falling into the pitfalls that befell the Rams in years past after winning their opening game, especially over CU.
"If you're satisfied, then you're mediocre," McElwain said.
Players around last season remember the same trap after the team came out with a 3-1 record before playing a "guaranteed win" at home against San Jose State. CSU lost its final eight games.
"Last year started out good, and then look what happened. We played San Jose State and got beat," wide receiver Dominique Vinson said. "It's a mindset. We know we have to come out and continue to work hard."
Now all the focus has turned to 2011 FCS defending National Champion North Dakota State. North Dakota State has made a reputation for spoiling home games for Division-I schools, beating Minnesota twice in five years, and Kansas two years ago.
"This is the one that's been circled, I shouldn't say this probably but I am, this has been circled on my calendar since the day I saw the schedule because I know what a good football team this is," McElwain said. "They know how to win. They built a program that expects to win."
North Dakota State is coming fresh off giving a beating to Robert Morris 52-0. The Bison feature 15 returning starters from last year's team including running back Sam Ojuri. Ojuri ran for 1,105 yards and 11 touchdowns in 2011.
"They run the heck out of power now," McElwain said. "They can put a clinic on how to run the ball between the tackles."
CSU is the only Division-I FBS school on North Dakota State's schedule this season, and it's a safe bet the Bison come to Hughes Stadium looking to play the part of spoiler.
The challenge facing the Rams is to match the intensity and seriousness that will no doubt come from their opponent.
"In my mind it's not something that you really force yourself to do because you love the game of football no matter what you're going out and focusing and your mind's ready and you're going to get at it," Vinson said. "If not, then it's just not the sport for you because it's an aggressive sport. If you're not going out there giving it 100 (percent) and going full speed you're going to get hurt."
Sports Editor Cris Tiller can be reached at sports@collegian.com.