Undie Run draws large crowd despite pandemic, University warnings
Isaiah Dennings
May 2, 2021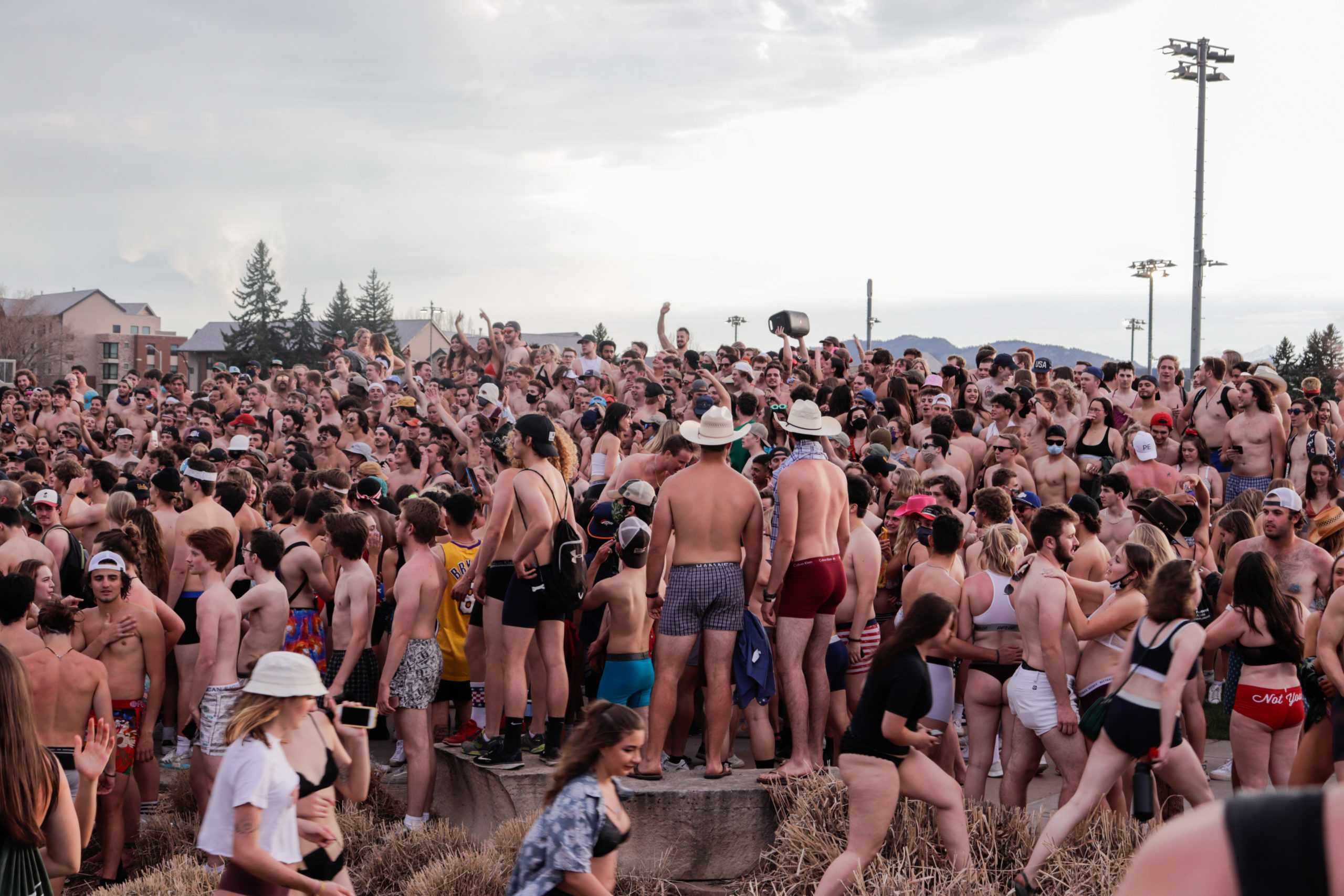 With a crowd of over 800, the Undie Run returned to Colorado State University despite pandemic concerns and opposition from CSU's Public Safety Team.  
The University does not sanction the run, and concerns were especially high this year with the threat of spreading COVID-19. 
"We have been notified by Larimer County that this unauthorized gathering is in violation of current public health guidance," read an email sent by CSU's Public Safety Team a week before the run. 
The CSU Police Department and Larimer County Sheriff's Office were both present at the event. Jay Callaghan, the captain over Patrol Services at CSUPD, explained that the role of the police presence was to keep the peace and ensure that everyone was safe during the run.
"To maintain safety, we have a variety of resources deployed and are monitoring online communications," Callaghan said. 
Tatiana Jourdan is a senior studying zoology who was on the sidelines spectating the event and watching out for her friends who were participating. 
"It may be kind of stupid with (COVID-19), but I don't think it matters what the police and CSU admins do — the run is going to happen if people are on campus," Jourdan said.
Few people in attendance wore masks, but the event led to no major arrests or citations, according to CSUPD. Time will tell how much property damage there was. 
The masses took a lap from the Intramural Fields to The Oval and then around the Lory Student Center back to the volleyball courts by the Recreation Center. Crowds stayed to play music and watch sand wrestling but dispersed quickly around 8 p.m.
The Associated Students of Colorado State University released their own statement asking students not to participate in the run. 
"This year has been tough and has come with many challenges; we encourage you all to not participate in an event that adds to those challenges," the statement read. "Remember our motto: Rams take care of Rams. While this event is being called a CSU tradition, we encourage you all to reflect on our actual traditions that we can take pride in."
Other traditions ASCSU encouraged students to participate in included hiking up to the "A" at the beginning of the school year, enjoying homecoming weekend with the homecoming parade and football game and sporting a "Forever Green" CSU T-shirt.
Although participation overall was lower than usual, as it has reached nearly 5,000 in some years, this year was higher than the last pre-pandemic run in 2019, according to Officer Matt Snyder from CSUPD. 
Patrick Reilly, a transfer student who studies marketing, sipped an Old Aggie with his girlfriend on The Plaza as the sun set on the underdressed masses.  
"Events and traditions like these will help heal the damage done by the pandemic," Reilly said. "It's good for a college student's soul to be free and have fun."
Isaiah Dennings can be reached at news@collegian.com or on Twitter @isaiah_dennings.