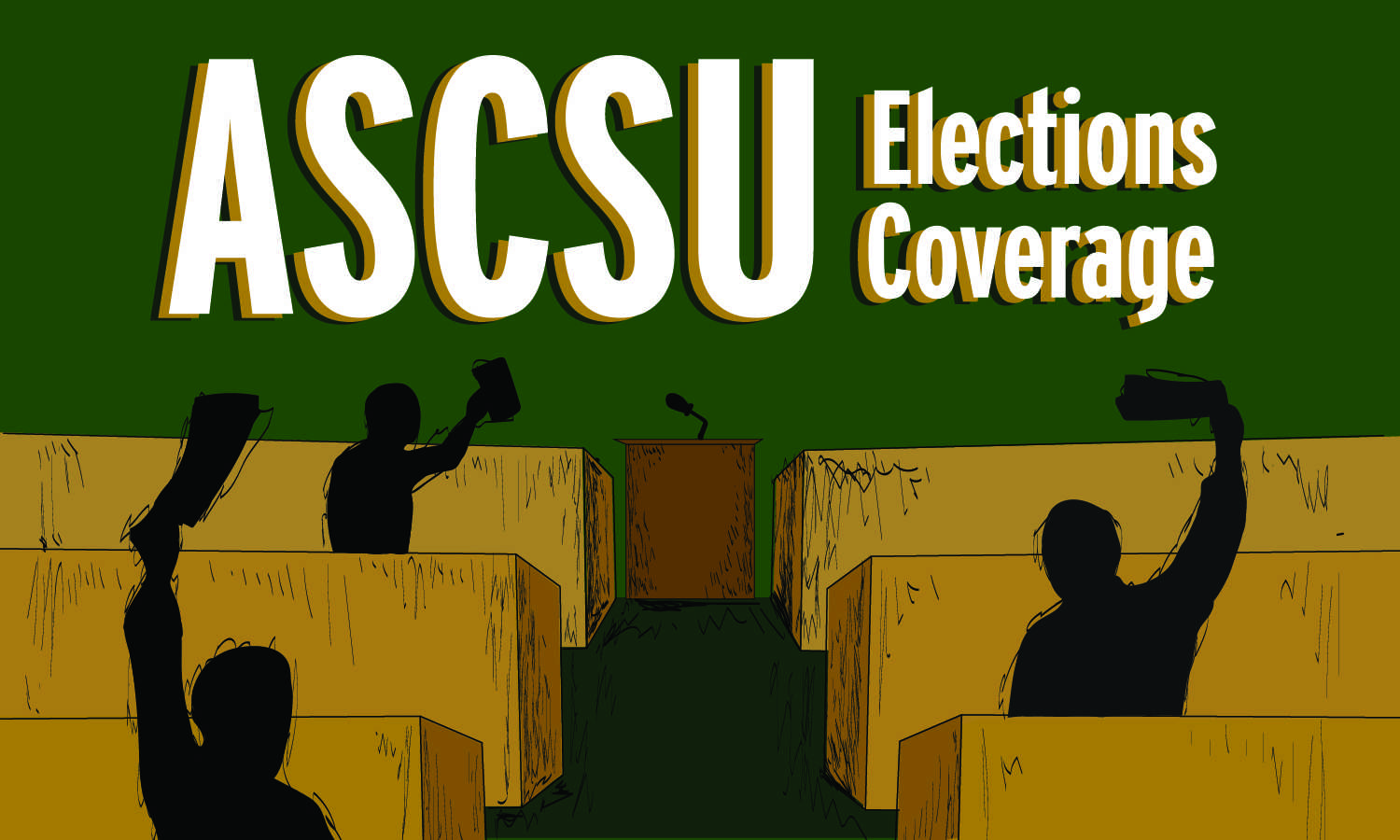 Presidential candidates for the Associated Students of Colorado State University built off of their running mates' performance at their own debate Wednesday night.
Candidates, who run on a presidential/vice presidential ticket, debated on transparency, building relationships with the CSU community and their own specific campaign promises March 24, after the vice presidential candidates met March 23.
Christian Dykson is a second-year political science major running with Merry Gebretsadik. 
Cinque Mason is a third-year communication studies major running with Lydia Zuklic. 
Lys Taddei is a second-year majoring in interior architecture and design, running with Weston Schroeder. 
John Williamson is a third-year business administration student running with David Pringle.
Transparency
All candidates said transparency and communication are important goals for their administration, with some discussing transparency specifically related to ASCSU finances.
"Transparency needs to be in place in order for the student body to guide us as we make solutions and decisions on where those funds go," Dykson said.
Dykson said one priority for his and Gebretsadik's campaign is to ensure students have access to mental health resources and to keep up the fight against food insecurity. He said that with these basic needs, students can achieve more, not just in academics but as people, too.
"We think transparency is honesty. … It means open agendas, open meetings, open mindsets, open frameworks," Dykson said.
Mason said he and Zuklic would work on transparency by being available on The Plaza to regularly talk to students and accept suggestions.
Taddei said she would address transparency by running an audit on University spending to make sure students know where their money is going. Part of Taddei's platform mentions turning lights off in buildings after a certain time of day to save students' money.
Williamson's approach to transparency is based on establishing trust and being truthful when he and Pringle have more to learn, Williamson said.
"We're going to be as proactive as possible in telling you that we don't know some things, and we're going to learn some things so that we, in fact, can make better choices," Williamson said.
Part of Williamson's platform in financial transparency involves fundraising for student organizations, so more students have the opportunity to participate in campus life.
CSU Undie Run
Mason and Zuklic's platform includes bringing back the CSU Undie Run and turning it into an event that acts as a fundraiser or an awareness campaign for survivors of sexual assault. In both the vice presidential and presidential debates, student viewers expressed concerns over this plan. 
In the chat function on the YouTube live streams, students said the Undie Run is harmful to survivors of sexual assault, harassment and domestic abuse and that it perpetuates a culture that allows for this. 
"The thing about the Undie Run is that it's going to happen," Mason said. "The best way to reverse the damages done by the Undie Run is to sanction it. … We have to take steps to get to this; we have to find a healthy compromise."
Williamson challenged Mason's view on this, and said that condoning the Undie Run condones everything that goes along with it.
"This isn't a recognized tradition, but this is a tradition within the heart of students," Mason said.
Pandemic safety
When asked about how they would go about ensuring student safety as the campus reopens in the fall semester, candidates had differing answers and perspectives.
Taddei said it is her goal to have campus open to students, so students can engage with each other in person and get the most out of their college experience.
"I am not going to tell you what to do," Taddei said. "I'm going to advise you to do what you think is best."
Dykson said he would primarily follow guidelines put in place by The Centers for Disease Control and Prevention, local health departments and the CSU Pandemic Preparedness Team to understand how he should lead the students continuing into the pandemic. 
Of CSU's current response, Dykson said "CSU is a pacesetter in that regard," referencing the University's ability to quickly test thousands of students for COVID-19 through saliva screening and wastewater testing.
Campaign promises
Other priorities highlighted by candidates included commitments to sustainability, diversity and inclusion and student engagement. 
Williamson's platform centers on student engagement, which includes plans to help fundraise for student organizations so they can continue to provide opportunities for students without increasing student fees. 
"Every single student here at CSU should have the opportunity and the ability to fully partake in every aspect of the college experience," Williamson said. "The college experience is the people you meet, the memories you make and the things you do." 
Williamson also said that students with no prior ASCSU experience should feel welcomed to get involved because it is a person's experience as a student that counts.
Taddei's campaign runs on a similar platform, with the idea of a "forever campus" that unites all students. Taddei said she wants to see ASCSU reaching inside all communities on campus. 
CSU is well-known for its sustainability efforts, and Mason hopes to continue and improve upon those with his campaign promises. Mason said he wants to see CSU cut down on waste by reducing single-use plastics and creating programs that would put dining hall food into the hands of students instead of the garbage. 
When it comes to diversity and inclusion, Dykson said that he wants to engage with the Student Diversity Programs and Services, college councils and the key communities to build the ASCSU executive cabinet. 
Dykson said ASCSU needs to "go beyond tokenism," and that it is the power of ASCSU to leverage these campus networks to raise others' voices.
For a full recount of the debate and the campaign promises at hand, watch the presidential debate on CTV Channel 11's YouTube. 
A recording of the March 23 debate is also on CTV's YouTube page. Students can tune in March 25 at 6:30 p.m. to watch the livestream of the speaker of the senate debate. 
Students can vote in the ASCSU elections March 30-April 1 on RAMWeb and read all about the candidates and other campaign news on The Collegian's website.
Serena Bettis can be reached at news@collegian.com or on Twitter @serenaroseb.