As state funding shrinks, CSU shares goals for resident, non-resident students
Charlotte Lang
March 11, 2019
Following years of record-breaking incoming classes, Colorado State University is working to balance an increasing out-of-state population while still sticking to its roots as a land-grant university. 
Last semester, 31.3 percent of students enrolled in CSU were non resident students. According to the University's fall enrollment report, this number is steadily growing.
Leslie Taylor, vice president for enrollment and access, said that a factor influencing the growth of out-of-state students is the strong economy making out-of-state tuition more feasible for a greater number of families.
As Colorado's land-grant institution, our mission is to serve the students of this state. They are our priority."

Kelly Nolin, senior associate director of admissions
Taylor said other factors include CSU's growing national reputation, as well as intentional investment in marketing and recruiting in the most lucrative states of California, Illinois and Texas.
There has also been a slow but steady increase of Colorado resident students leaving the state for higher education, creating a competitive market for all in-state, four-year schools.
"As the land-grant institution in Colorado, we have the unique mission and responsibility to offer education to all Colorado students who have the ability and desire to earn a degree," Taylor said. "We take that role very seriously and thus reach out to all areas of the state to recruit students."
Taylor said that, at the same time higher education in Colorado has been defunded by the state since the recession, the tuition paid by non resident students has helped balance those cuts, along with more intentional fundraising and grant acquisition.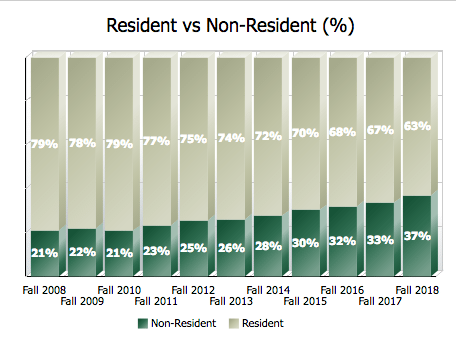 Currently, Colorado ranks 47th nationally in higher education spending per student, according to the State Higher Education Executive Officers Association.
Students in Colorado are expected to be responsible for 64 percent of the cost of higher education for current fiscal year, according to the Colorado Sun. In 2000, the state provided 68 percent of public university funding.
Under a law passed by the Colorado General Assembly in 2018, Colorado universities are now able to admit more out-of-state and international students, under the requirement that all applicants be 100 percent academically qualified. This law reduced the required percentage of in-state students to make up no less than 55 percent of total enrollments at the University of Colorado system and CSU. Before this, about two-thirds of students had to be Colorado residents.
The law aimed to preserve the affordability of in-state tuition as funding decreases. 
While tuition differs, residents and non residents go through the same admission process. Taylor said the University does not base admission credentials on residency.
"We admit on academic credentials, not residency nor citizenship," Taylor wrote in a follow-up email to The Collegian. "We are cognizant of the financial impact on non resident students and are intentional about counseling those with lower income capacity on the long-term impacts of loan debt, etc."
Recruiting resident and non resident students is similar with the exception of the fact that the University has the ability to directly and intentionally work with residents as young students, Taylor said. Resident students are also more likely to have visited the campus.
"That dynamic is slightly different in California, Illinois and Texas where we have recruiters but the ratio of high school graduates to staff is, of course, much higher in those areas," Taylor said.
Kelly Nolin, senior associate director of admissions, said in-state students are recruited year-round.
"Our recruitment plan this year was to do as many in-state high school visits and college fairs as we could," Nolin said. "We prioritized our largest feeder schools and those that we hadn't visited in two or more years."
Colorado residents are also served through various on-campus visit programs. These include daily information sessions and tours Monday through Saturday.
Nolin said this year has had so many visitors that a second session was added to every Saturday.
"Some of the smaller programs we offer serve high-achieving students and first-generation college students," Nolin said.
As a team, Nolin said there are 12 counselors assigned to recruit incoming Colorado freshmen and five counselors assigned to recruit incoming transfer students, as well as one counselor assigned to Native American students.
Nolin said it is always a goal to be the Colorado school of choice, a title she said the University has retained for over a decade.  
According to the University's general catalog for 2018-19, more Colorado high-school students choose CSU than any other campus.
"We devote a lot of time and resources — both human and financial — to recruit our Colorado residents," Nolin said. "As Colorado's land grant institution, our mission is to serve the students of this state. They are our priority."
Charlotte Lang can be reached at news@collegian.com or on Twitter @chartrickwrites.