Higher minimum wage drives increasing room and board rates
Students living on campus at Colorado State University this year are paying an average of $304 more than on-campus residents of 2016, according to data from CSU Institutional Research.
This is nearly a three percent increase from the 2016-2017 school year. Nancy Greenberg, financial manage or CSU Housing and Dining Services, wrote in an email to the Collegian that this year's increase was necessary to cover rising expenses.
This increase has allowed Housing & Dining Services to cover the increased cost of goods and services as well as salary increases – including minimum wage increases each year," Greenberg wrote.
The current minimum wage for Colorado is $9.30 per hour and will increase to to $10.20 as of Jan. 1. Paying employees – including resident assistants, maintenance and dining staff – makes up the largest portion of the Housing and Dining Services budget at 38 percent, according to Housing and Dining Services.
"To put it in perspective, the cost of living in Northern Colorado has increased annually by 2.8% in 3 of the last 5 years," Greenberg wrote. "Minimum wage has also increased up to $1/hour in each of the last two years and will increase again in January."
Housing and Dining Services does not receive any tuition money from the University, according to Greenberg. It is a non-profit entity that supports itself through student room and board revenue.
"As a non-profit entity, we need to increase room and board to cover these expenses," Greenberg wrote.
In addition to paying salaries and wages, Housing and Dining Services has a series of bond payments to make on recent projects. The dorms at CSU are entirely owned by the University. However,  Greenberg said annual payments similar to a mortgage are being made on some of the newer dorms and apartments.
According to Greenberg, the annual payments paid to Housing and Dining Services include:

Aggie Village Apartments – $8,000,000
Laurel Village and Durrell Renovation – $3,570,000
Academic Village – $2,900,000
Braiden and Parmelee 4th floor additions – $820,000
This year's room and board rate increase is part of a long term trend of growing cost. The highest year-to-year increase occurred during the 2007-2008 school year with a rise in $766 from the previous year.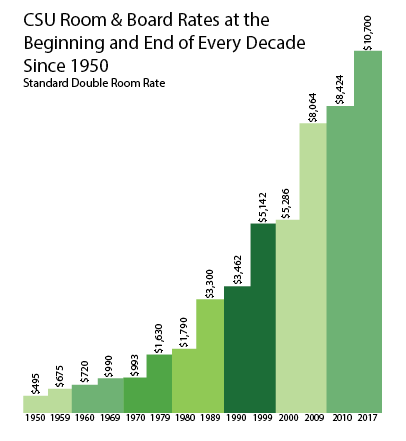 Greenberg said Housing and Dining Services does their best to reduce these increases.
"We do try to keep rate increases to a minimum and still offer the quality of service our students expect while also keeping our facilities functioning effectively," Greenberg wrote. "We review (the Consumer Price Index), mandatory increases such as salary, fringe benefits, utilities, university services, facility requirements, etc. – for the minimum increase that will allow us to cover these expenses."
While room and board rates are increasing, some students still choose to live on campus for their second year.
Ryan Haynes, a sophomore studying communications studies, said living off-campus might have been cheaper but the close proximity to classes was a major factor for him. Haynes was born with arthrogryposis, a conditions that affects the function of joints in his hands and feet.
"Around 2011, I made the decision to get my feet amputated so now I walk with prosthetics," Haynes said. "If I lived off campus, it would just be a little bit harder for me."
Haynes said he does not have any complaints about living on campus, other than dining hall meals being rather expensive. According to Greenberg, a 14 meals-a-week plan equates to $10.50 a meal.
"You don't always have the time to eat that much and you can't always fit that much in your stomach, so I think (dining hall meals) are a little overpriced," Haynes said.
CSU is in the early stages of planning to form a new dorm on campus to accommodate a growing population. Greenberg said that second year students are currently encouraged to live on campus after their first year.
"As a non-profit entity, our revenue needs to balance our expenses and we want to remain competitively priced to encourage students to live on campus beyond the first year live-on requirement," Greenberg wrote.  
Collegian news reporter Ty Betts can be reached at news@collegian.com or on Twitter @TyBetts9.