Cans Around the Oval collects donations, raises food insecurity awareness
Julia Trowbridge
September 13, 2017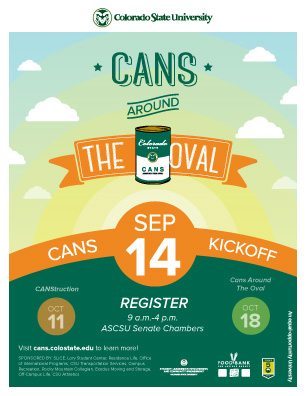 In an annual food drive event, students and local organizations help those in need through participating and donating to Cans Around the Oval.
Starting with students lining cans around a fourth of the Oval in 1986, Cans Around the Oval has grown into Larimer County's largest single-day food drive, raising 41,670 cans and $57,714 for the Food Bank for Larimer County last year.
The annual event is run by Student Leadership, Involvement & Community Engagement and is an annual food drive that consists of groups and organizations collecting donations of canned food.
Any student, group and organization can participate in the event, either by donating, collecting donations or volunteering.
Cans Around the Oval consists of three different days: the Cans Kickoff on Sept. 14, CANstruction n Oct. 11, and Cans Around the Oval on on Oct. 18. Registration for groups participating can be found on the Cans Around the Oval website.
Groups register and gather materials for collecting the cans during the Cans Kickoff event. This allows groups to inform others about the event and begin to collect donations. CANstruction happens on the Plaza from 10:00 a.m. to 2:00 p.m. For this event, groups gather on the Plaza and create a structure out of the cans they have collected so far.
The event will officially conclude with Cans Around the Oval. Out of tradition, the event begins with President Tony Frank and a few other members of the CSU administration placing a few cans around the Oval with local students. Then, the actual collection of cans and donations begins.
This is the 31st year that Cans Around the Oval has occurred. After the first couple of years, the event became a part of the Office of Service-Learning and Volunteer Programs, now known as SLiCE.
"(Cans Around the Oval) became a tradition because of the dedication of people who really wanted to help others," said Regina Martinez- Gonzalez, special event coordinator for SLiCE and a junior studying International Studies. "The people in the office wanted to keep it happening from the beginning, and it's such a good thing that they did."
According to Martinez-Gonzalez, Cans Around the Oval is a way for students to give back to those struggling with food insecurity.
"Food insecurity is a problem for people in the U.S. and in our community," Martinez-Gonzalez said. "There are some people who can't afford to buy food, and this is a way we can help the community."
Collegian news reporter Julia Trowbridge can be reached at news@collegian.com or on twitter @chapin_jules.