As support for recreational marijuana rises, so do arrests for DUID
Capelli D'Angelo
February 17, 2016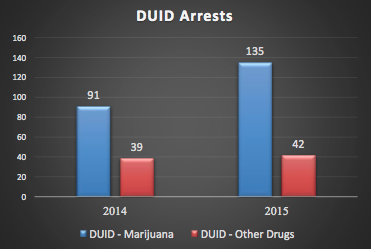 Now that marijuana has been legalized in Colorado for two years, questions are raising about DUID citations (driving under the influence of drugs). According to the Larimer County Sheriff's office, 76 percent of DUID arrests in Colorado have involved marijuana use this year.
Although the total number of arrests made due to intoxicated drivers dropped from 2014, 665 to 625, the number of marijuana-related incidents increased dramatically. This indicates a decrease in DUIDs where other drug use was involved, as well as, a drop in alcohol-related incidents. Statisticians argue whether or not this increase relates to the recent legalization of recreational marijuana.
Are sheriff's expecting people to be driving under the influence now that marijuana use is legal? In 2015, 177 cases were filed against criminals driving under the influence. In 76 percent of these cases drivers were charged for driving after using marijuana. This is a growing statistic compared to the 130 arrests made in 2014, when only 70 percent were marijuana-related.
If you would like to learn more about DUIDs issued in Colorado, read the full press release.