Jill Baron, senior research ecologist at CSU, speaks to community members at New Belgium Brewery about the importance of decreasing carbon dioxide emissions Thursday night. 
Change is in the air as Obama and the Environmental Protection Agency announced the standards for carbon pollution at power plants across America.
The nation's goal is to reduce the carbon dioxide emissions by 30 percent of what they were in 2005, according to the EPA.
Colorado is in a good spot to meet these goals and already has many businesses that support sustainable efforts, such as Fort Collins' New Belgium Brewery, according to David Ellenberger, the Regional Outreach Coor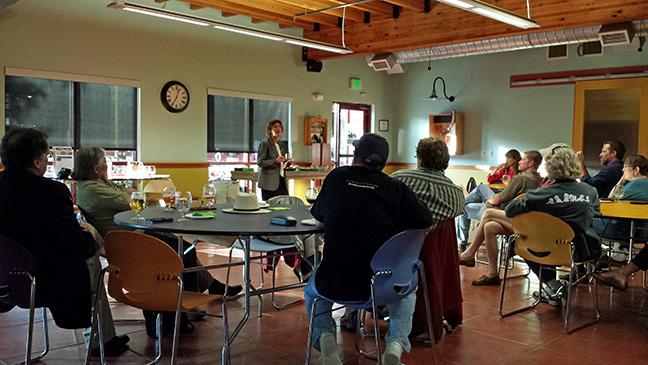 dinator for the National Wildlife Federation.
The current goals are to reduce emissions by 20 percent by 2020 and 80 percent by 2050.
Thursday night the NWF, along with New Belgium employees and Fort Collins community members gathered at the New Belgium Brewery in order to celebrate the EPA's new guidelines and discuss local issues.
In Obama's most recent weekly address he said power plants are the leading cause of carbon dioxide production and the need for them to be limited is essential. Obama addressed the need for climate change to be federally addressed.
In Colorado 64 percent of energy comes from coal, generating excessive amounts of carbon dioxide, according to US Energy Information. Ellenberger said there is a direct correlation with the amount of carbon dioxide emissions and how climate is being affected today.
"From 2003 to 2013 Colorado has spent 47.8 billion dollars on extreme weather events. In the past several years alone we have experienced fires and floods here in Fort Collins," Ellenberger said.
All people under the age of 38 are continually experiencing warmer months than generations prior. The climate continues to get warmer he said. It is up to people to make small differences and the government and the EPA to take larger steps to a cleaner and more sustainable future.
"The goals Obama and the EPA have set are necessary for us to reduce our carbon footprint," said Chris Lucero, a junior natural resource major. "The Fort Collins community prides itself in sustainability and there are efforts everywhere to reduce carbon production, but there is still the need to come up with further ways to reduce."
Two hosts of the event were trained by Al Gore. Katie Hoffner, the vice president of marketing at Prieto Battery, Inc. and Jennifer Vervier, New Belgium's director of sustainability learned  how businesses can be more environmentally conscience.
"New Belgium's use of a 200 kW photovoltaic array (a solar panel) in order to contribute to the electric needs of New Belgium," Vervier said.
The New Belgium website states 18 percent of all electricity comes from their use of solar and an onsite water treatment plant.
Fort Collins is making efforts across the board in reduction of carbon production, primarily in transportation and cutting the amount of coal burned.
"We have a turbine out at Rawhide (north of Fort Collins) used during peak times, such as in the summer when people have their A.C. on high and we are also putting large sums of money into Fort Collins transit," Horak said.
According to Horak, this year alone 12 million dollars was put into efforts such as the MAX transit and efforts to make transit better across Fort Collins. While these buses run off of natural gases there is no marginal cost as more and more individuals use transit.
According to Jill Baron, CSU professor and senior research ecologist, the small efforts do make a difference.
"The good news is when we start reducing carbon dioxide we are also pulling other unnecessary pollutants out of the air such as methane, nitrogen oxide and sulfur," Baron said.
Baron conducts her research in the Rocky Mountain National Park where she has seen the changes of the environment first hand. For instance, she said unwanted nitrogen decreases the growth of high elevation flowers.
"There are collaboral benefits of reducing carbon dioxide emissions. By cutting carbon emissions we can reduce ozone damages, human health issues such as asthma, have less sulfur in the air, which will result in less acid rain and also less mercury occurring in the atmosphere," Baron said.
Besides the general standards put in place, the EPA has left many of the decisions up to individual states. According to Ellenberger, Colorado has the most aggressive standards and ideas, only second to California, when it comes goal of energy reduction.
"The states can work together and develop plans collectively to reduce carbon emissions.  Colorado is headed in the right direction," Horak said.
There will be four press conferences held in the U.S. regarding the decisions of the government and the EPA. One will be held in Denver on July 29 and individuals are welcome to come and state their thoughts and opinions for five minutes.
Collegian Senior Reporter Josephine Bush can be reached at news@collegian.com.