In the heart of Fort Collins, a collaboration between the Well Fed Farmstead and The Fox Den: No Waste Cafe & Roastery brings fresh, locally sourced produce and goods to the neighborhood, all while promoting sustainability and reducing waste.
For Patricia Acheson, the owner of Fox Den: No Waste Cafe & Roastery, this partnership was a way to add convenience for their customers.
"Ryan (Ericson), the owner of Well Fed Farmstead, came to me about this idea at the perfect time because we were already creating a little bodega, which is a little neighborhood convenience store for those items you tend to always forget to buy at the store," Acheson said. "Tampons, toothpaste, laundry detergent, sponges, etc., so we decided to add his farm stand into our little bodega for fresh produce, eggs, greens and more."
Having the Well Fed Farmstead at Fox Den also helps support local farmers. It contributes to the cafe's mission of no waste, said Becca Webster, a barista at Fox Den.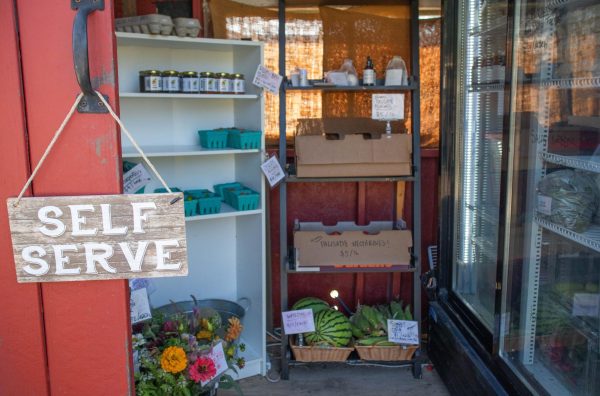 "We just want to support our local farmers and help them out and make sure that everyone's getting food that's actually good quality and unprocessed," Webster said. "It helps us prevent any waste, and people love coming here and getting food instead of going to the grocery store where it's all wrapped in plastic."
Other Fox Den workers hold the same opinion.
"We want to make the cafe a one-stop shop for people in the neighborhood, especially for those who prefer biking or walking," said Sydney Johnson, another barista at Fox Den.
Local customers have welcomed this initiative with open arms, recognizing the value of supporting local farmers; enjoying the convenience of fresh, sustainable options in their own neighborhoods; and embracing the positive impact on the community's overall well-being. 
"People in the neighborhood have responded really well," Johnson said. "It's all self-serve, so people can just come in, get what they need and walk out. It's convenient, and it aligns with our community's values."
Webster added that the local community has enthusiastically embraced the initiative and appreciates how easy it is for the people to get the food they need.
"Everyone has been super supportive," Webster said. "I see so many people come in just to grab some fruit or veggies, so I think people genuinely enjoy having food so accessible and locally grown."
For Acheson, seeing the positive reception from customers has been gratifying and shows the value of the collaboration.
"The customers have loved the farm stand, and while it's still new, we are already seeing a lot of customers using it and commenting on how nice it is to have it in the neighborhood," Acheson said.
Acheson also shared her vision for the future.
"I think the bodega will continue to grow based on the customers' needs and recommendations," Acheson said. "With our coffee shop being smack dab in the middle of a neighborhood, more and more people will see this as a place to get their fresh local goods and only being a few steps away from their door."
The Well Fed Farmstead's presence at Fox Den is an example of a collaboration that benefits the local community, promotes sustainability and lowers waste.
Reach Hania Nini at entertainment@collegian.com or on Twitter @csucollegian.