How local artists crafted the Public Trust zine for FoCo music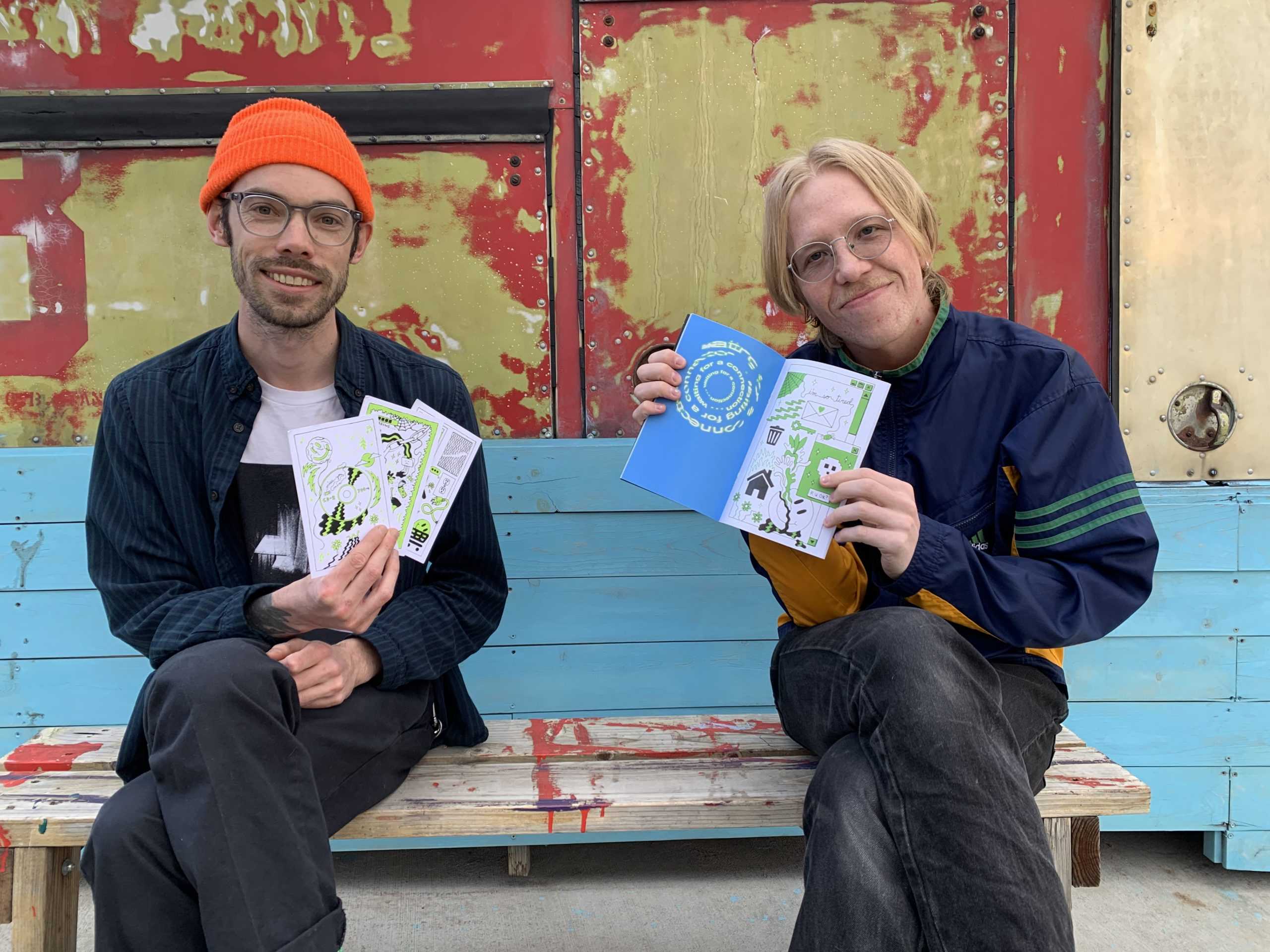 For the past 12 years, the Fort Collins Musicians Association has held FoCoMX, an annual music festival that hosts and celebrates local musicians from Northern Colorado. With restrictions on large gatherings due to the COVID-19 pandemic, the organizers for this year's FoCoMX were faced with the unique challenge of creating the festivals' first ever online iteration. 
For a companion piece to the festival, FoCoMX commissioned local artists and designers Jakob Mueller and Chris Jones to create the Public Trust companion zine, a collection of artwork, interviews and essays to highlight the musicians featured in this year's line up and give insight into the history of the Fort Collins DIY music scene. 
The zine also explores the context of this year's festival and how the pandemic has affected the sudden intense integration of technology in our everyday lives. 
"When we started talking about the overall aesthetic and theme of the zine and the event as a whole, … we were thinking a lot about the digital space that everyone was forced to occupy so much more heavily," Jones, an illustrator, designer and co-creator of the zine said. 
The artwork and style draws heavily on pixel based computer graphics, embracing simplistic design of early digital interfaces.
"Overall, (it's) influenced by the idea of having a virtual music festival and then having a print zine to go with it," Mueller, who worked with Jones to create the zine, said. 
The focus of the Public Trust companion zine on this retro 8-bit aesthetic is intended to play into the irony of the zine being one of the only uses of traditional media in a festival made up of mostly digital components. 
"The zine and the merch is the only physical aspect of the festival," Jones said.
Along with the retro design of original computer graphics, both Jones and Mueller drew inspiration from the graphic design of zines and posters from underground music scenes. 
"Right before we started this, I started getting really into rave posters from the late '80s/early '90s," Mueller said. "So those bright colors made their way into it."
The zine pays tribute to their many inspirations while aiming to create a unique, modern design that doesn't seek to completely emulate a specific time or artistic community. 
"It's definitely an interesting combination of lots of different eras of graphic design," Mueller said. 
Jones also said that many of the influences that inspire his outside work seeped into the illustrations, such as comics artist Michael DeForge and illustrator Sam Grinberg. 
"I have boxes of zines at my place, and I just dig through there and grab stuff that speaks to me based on the project that I'm working on," Jones said. 
For both artists, the zine was a passion project that was only facilitated by the FoCoMA team. 
"The zine is produced with 100% creative autonomy," Jones said. "You can't really ask for a better deal than that." 
A hands off approach from the festival's organizers allowed the pair to approach the project as a reflection of themselves as artists as well as a reflection of the DIY scene that exists in Fort Collins.
"They literally said, 'Do whatever you want,' and we did," Mueller said. "We just made it fun."
The pair describe the collaboration as an organic exchange of ideas where each artist focused on a different aspect of the zine, with Mueller specializing in typography and layout and Jones creating accompanying illustrations. 
"Jakob (Mueller) and I knew of each other and were mutual fans of each other's work but hadn't really ever had a long conversation," Jones said. "This was like our excuse to do something together."
With each artist focusing on different elements of the zine's production, they were able to blend their distinct artistic styles and influences into a series of cohesive layouts. 
"We ended up just finding a way to divvy up the work between us in what felt like a pretty equal way," Jones said. "We were both able to … make stuff we were excited about and proud of."
This collaboration is highlighted in the two-page art spreads that appear throughout the zine as palate cleansers in between essays and interviews. 
"On the right side there's a Chris (Jones) illustration, and on the left I did a type layout that was in response to Chris' very emotive and existential illustrations," Mueller said.  "(They) really ring true with how I've been feeling this year, which was another thing that came out of this zine; … an expression of how we're feeling and how crazy our lives are right now." 
Informed and inspired by the legacy of independent zines and counterculture art that predated it, the Public Trust companion zine stands as a glimpse into the unique community, culture and artwork that's created in Fort Collins today. 
The virtual FoCoMX: Public Trust festival, as well as access to the Public Trust companion zine premiered April 23 at focoma.org. 
Max Hogan can be reached at entertainment@collegian.com or on Twitter @macnogan.