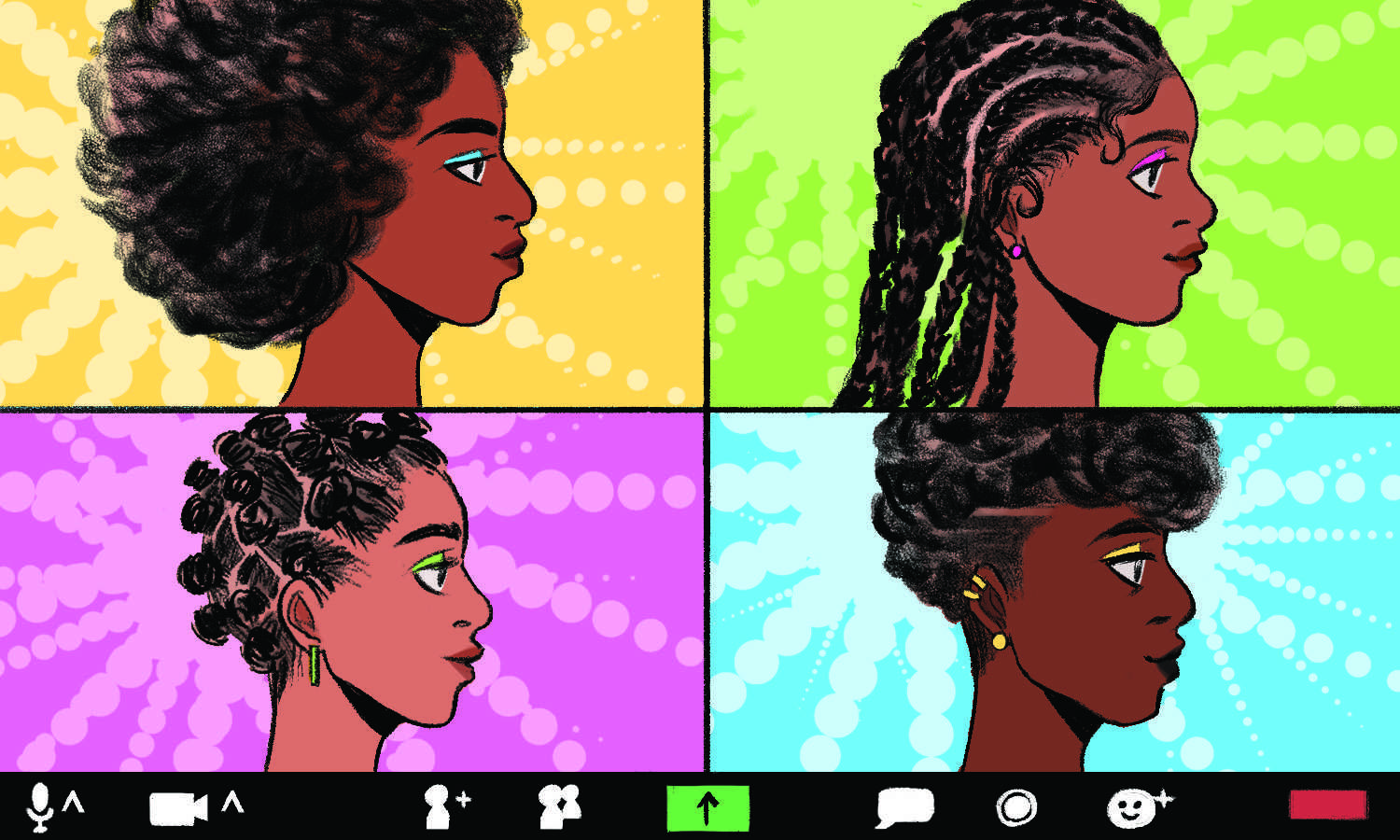 Every year, United Women of Color teams up with the Black/African American Cultural Center to host a hair show beauty pageant that celebrates and showcases Black and brown hairstyles. 
This annual event is the finale of the B/AACC's series of Black History Month Programs at Colorado State University.
Taya Hancock, president of UWC and host of this year's hair show, explained that there is a stigma against natural Black hair, and events like this combat the stigma by celebrating natural hair and beauty instead. 
"Black hair is Black history," Hancock said. "Going back to how cornrows were made as escape routes during slavery or even box braids and how those are used for protective styling." 
Due to COVID-19, the event took place over Zoom. Playing off this idea, the theme of the event was "Werk From Home." Contestants had the option to style their hair during the show or to present photos of their past looks. 
"Whatever style we are doing, it's beautiful, it should be celebrated, it's professional, it's unique, it's creative," Hancock said. 
Being at CSU, we don't get much representation, and events like these make us feel at home and welcome in a community."-Isabelle Rayburn, contestant
Contestants showed off their different hairstyles in three different categories: Zoom hairstyles that keep you stylish and confident on camera, protective styles worn during quarantine and wrapped styles that utilize bonnets or head wrappings.
"I like to express myself with my hair, so showing off my different styles and colors to others is a great experience," contestant Bolu Ajayi said. "My favorite hairstyles are my pink and yellow wigs."
During the first round, Ajayi showcased her yellow wig. Ajayi said she chose this wig because the bright colors draw attention to her screen. 
Contestants got creative during round two and showed off the styles that they used to protect their hair during quarantine. The capabilities of Black hair were showcased with a wide array of braids and twists.
Micaela Parker stood out by including a headdress with her protective style.
"I always do these headwraps, it's like my favorite thing to do, I kind of look like Marie Antoinette," Parker said. "I look regal."
During round three, contestant Jordan Khalfani stood out by wrapping her locks on top of her head instead of using a bonnet. 
"My hair is not in a bonnet, but that's how I wrap it up when I sleep," Khalfani said. 
Judges went into breakout rooms after each round to deliberate on the different hairstyles. After all three rounds, the judges took their time reflecting on the previous rounds and ultimately decided a winner. 
"I mean, I know for a fact this is going to be a hard decision because everybody brought something different," Khalfani said. "And everybody did really well in representing that."
After a suspenseful deliberation, Hancock announced Parker as the winner of UWC's 2021 virtual hair show. 
Parker is a CSU alumni who graduated with degrees in communications and ethnic studies. She is a previous executive member of the United Women of Color and plans on moving to Japan to teach English in April. 
Parker left the hair show in first place and a $100 reward for showcasing her styles. 
"This is such an honor. Thank you all I wish you all nothing but beauty, blessings and happiness," Parker said.  
The runner-up was decided by audience vote, and that spot, along with the $50 award, was given to Ajayi. 
"Bolu (Ajayi), as a first year, as a fierce, bold, fabulous young Black woman, I was so excited to see you show yourself off," judge Angelica Guzman said, commenting on the hairstyles that Ajayi wore. "It was absolutely incredible."
Even though there was only one winner and one runner-up, everyone had a great time sharing their styles and closing out Black history by celebrating Black natural hair. 
"I personally love coming to these types of events because they showcase Blackness," contestant Isabelle Rayburn said. "Being at CSU, we don't get much representation, and events like these make us feel at home and welcome in a community."
Although Black History Month has come to an end, both the Black/African American Cultural Center and United Women of Color work throughout the year to support students, celebrate culture and foster inclusivity on campus. 
Isaiah Dennings and Maddy Erskine can be reached at entertainment@collegian.com or on Twitter @isaiah_dennings and @maddyerskine_.