Not following the herd: What makes Ram culture unique?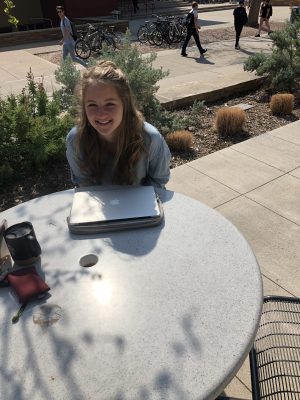 Cam The Ram. Over 500 student groups. 250 plus majors.
These are just some facts of Colorado State University one can learn from perusing the CSU's admission website.
But what does campus culture mean specifically to CSU students? What distinguishes our Ram culture from other schools? And how are we contributing to that culture?
For Nika Fridman, a freshman psychology and sociology double major, the people are CSU's strength.
"I think they are more genuine and not as materialistic," Fridman said.
Fridman also said students care about each other, as opposed to their material goods. Mary May Molitor, a freshman interdisciplinary liberal arts major, agrees. Molitor said people are "welcoming."
"The professors and faculty are encouraging," Molitor said. "They want you to succeed."
Molitor said students embody the same spirit as well. For some students, the spirit of activism and self-awareness make our campus distinctive.
"Everybody is down to earth," said Kenon Miner, a junior soil and crop sciences major. "They care about the environment."
Other students think of the community within their particular concentration. James Zafarana, a senior human dimensions of natural resources major, said the Warner College is a "pretty tight-knit community."
I think it is just that realization we are all in it together." Mary May Molitor, freshman interdisciplinary liberal arts major
The college's unique strength?
"A lot of love for the world outdoors," Zafarana said.
On a broader level, Zafarana said CSU's campus is distinctive because of the open spaces. It is fun to see people get out on nice days and interact, Zafarana said.
For other students, the university's history adds to the uniqueness.
"I feel like we are true to our ag heritage," said Andrew Hopp, a senior soil and crop sciences major.
Hopp said CSU keeps the agricultural spirit alive through departmental outreach, in addition to research with local farmers, and CSU's Extension program.
Colorado State is the state's land-grant institution, founded in 1870. CSU's College of Agricultural Sciences offers nine undergraduate majors with 28 different concentration options. 39 graduate degree programs are also offered.
For other students, the spirit of open debate enhances CSU. Chris Poulos, a senior soil and crop sciences major, said the free speech zone is unique.
"You feel you can say what you want," Poulos said. 
Poulos also enjoys the hands-on experiences. He said he feels it is a symbiotic affair, in which he brings his knowledge to the table, while gaining experience.
Fun fact:

Painting the giant 'A' atop the western hillside has been a CSU tradition since 1924. At the time CSU was known as Colorado A and M.
So how have students contributed to Ram culture? And what have they taken from it?
"Just the open attitude, the pursuance of teaching and learning from others," Miner said. "We all have different goals and a lot of them intertwine."
Other students engage differently with the campus.
"I am not the most involved on campus," Zafarana said. "But I do try to go to different symposiums and talks that are important to my education."
Zafarana added that the collegiate experience at CSU has enhanced his critical thinking skills.
"One thing I have learned from college is to check your ego on what you think," Zafarana said.
So what really ties the campus together?
"I think it is that realization that we are all in it together," Molitor said.
Collegian reporter Nick Botkin can be reached at entertainment@collegian.com or on Twiiter @dudesosad.