CSU reacts: What movies spark high times for you?
Nick Botkin
April 17, 2018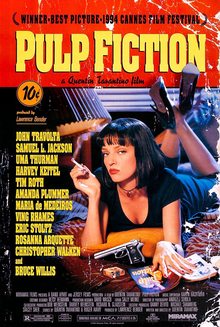 With 4/20 approaching, you might be feeling high as you prepare for the celebration of all things cannabis. This might include selecting your favorite movies to watch while smoking.
Colorado State University students shared which movies they enjoyed watching while high. 
Jenna Biedscheid, a sophomore conservation biology major said "Pulp Fiction" is her favorite. The 1994 Tarantino movie is perhaps best known for its lack of traditional chronological structure and graphic violence fused with darkly comedic dialogue.
Biedscheid has seen the movie approximately four times high. Biedschied said she likes smoking Storm Trooper, a sativa strain, during viewings of the movie.
"It is really complex," Biedscheid said. "When I am stoned, I am able to perceive the movie in different ways." 
Biedscheid also said when sober, she has one particular perception of the film.
"My thoughts are not as creative," Biedscheid said.
It is really complex and  when I am stoned, I am able to perceive the movie in different ways."-Jenna Biedscheid, sophomore conservation biology major
For other students, their viewing choices are more surreal.
Heidi Hartman, a junior art major and transfer student, likes "Yellow Submarine." 
Why this particular choice?
"It is really visual," Hartman said. "It is really colorful. It is, dare I say, trippy."
The 1968 classic is "less funny" sober, she said.
The movie was inspired by Beatles' music and involves a journey to the fictitious Pepperland in a yellow submarine.
These are not the only reasons Hartman likes the movie.
"It is really funny, and it is really random and it has the voice of the Beatles," Hartman said.
Hartman said when she used to live with her mother, she would watch the movie on the roof and smoke.
Hartman's favorite quote from the movie?
"It is all in the mind."
Fun fact

Rolling Stone ranked "The Big Lebowski" its number one stoner movie Of ALL TIME.
Other students literally have a rocking time while smoking.
Marcus Danes, a senior biomedical sciences major, is a fan of Pink Floyd's "The Wall." 
"I like the music," Danes said. "There is a lot of cool visual stuff in it."
 The 1982 live-action musical drama is based on Pink Floyd's 1979 album, which bears the same name.
Danes also said watching "The Wall" high has certain advantages.
"It is actually easier to follow the storyline," Danes said.
Danes also said he has no favorite strain of cannabis to enhance the viewing experience. 
Students agree that watching these movies high can unite people.
"It is a community developing experience," Danes said. "It brings people together."
Collegian reporter Nick Botkin can be reached at entertainment@collegian.com. His Twitter handle is @dudesosad.