Fall Out Boy's new album, 'M A N I A,' covers same topics with a new sound
Maddie Wright
January 23, 2018
Fall Out Boy is known for appealing to the emo teenage stereotype. With their latest album, "M A N I A," they carry on this energy and add in some new sounds, too.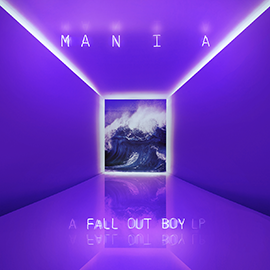 "Young and Menace" was the first single released for this album. According to bassist, Pete Wentz, it is one of the weirdest song the band has ever made. The intro of the song is slow and makes you wonder if Fall Out Boy has really changed that much. But then the beat drops, and you realize it is about being a part of the punk-rock community and finding yourself through it all while giving tribute to the band's history.
One thing every track has in common is its powerful lyrics. In the second track, "Champion," the band empowers the listener through lyrics about being a winner and still dreaming even when you feel like a loser.
A common theme in any album across genres is love and heartache. And "M A N I A" has no shortage of relationship-based songs.
The fifth track, "The Last of the Real Ones," is a love song that celebrates the imperfections of someone and how you can love someone because of these imperfections and not in spite of them.
The seventh track, "Church," is an anthem about worship in a relationship and how you can worship someone. However, heartache and unrequited love is the topic of the sixth track, "Wilson (Expensive Mistake)."
This is the shortest Fall Out Boy album at 35 minutes and 10 songs. Only one song on the album exceeds four minutes, but this is fairly typical for the band.
Fall Out Boy has been making angsty music since 2001, and "M A N I A" has the band's staple tone in a handful of the songs. The content of the songs is often about pain and struggle but portrayed in a strong energy. The evergreen teenage angst is still powerful and relatable as an adult.
Some songs on this album, such as "Champion," have a high energy to them. They would be perfect for a gym playlist. They get you going and feeling confident; they have a real "I got this" attitude to them. 
Fall Out Boy has a connotation of teenage angst, but they are not the same band you had posters of in you 8th grade locker. This is their 7th album, and their last album was released in 2015. This music is more varied. It is clear that the band is straying from their more hardcore personas.
One thing that seems to have people debating is what genre to put this album into. Is it rock? Is it pop? It even has some punk and EDM elements in it. Each songs have its own unique elements setting it apart from the song before it.
This album is absolutely packed with pop culture references from start to finish. And it's not all Wednesday Addams vibes either; although, there is her "I'll stop wearing black when they make a darker color" line as a principal part in "Wilson (Expensive Mistake)." The first track features a Britney Spears reference in the chorus, and the closing track plays homage to the movie "Alien."
Should you listen to it? Yes
All in all, this is a well crafted album. You most likely will not love every song, but there is something on the album for everyone. You'll relate to a song. You'll feel empowered by another. You'll get angry at an ex in another.
Favorite song: Young and Menace
Least favorite song: "Bishops Knife Trick"
Collegian reporter Maddie Wright can be reached at entertainment@collegian.com or on Twitter @maddierwright.