Fortoberfest to close out summer festival season
Sarah Ehrlich
September 14, 2017
What better way to end a summer full of beer and music festivals than with beer and a music festival?
Fortoberfest will end the summer music festival season German style this Saturday. This free music festival will have ten hours of live music in Old Town Square, authentic German food and ten seasonal beer offerings from Odell Brewing and High Country Beverage, perfect for autumn. Expect performances by some Fort Collins favorites including Gasoline Lollipops, Danielle Ate the Sandwich, Taylor Scott Band and Whitewater Ramble.
This festival celebrating Fort Collin's colorful beer and music scene was made possible by a donation from the Bohemian Foundation's Music Programs, and will be presented by the Fort Collins Downtown Business Association.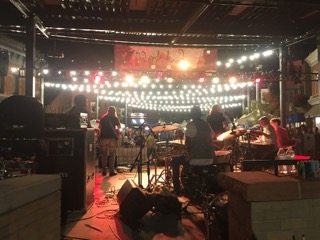 Fortoberfest Old Town Square music lineup
11:30 a.m.–12:30 p.m. Tallgrass, playing dirt stomping soul
1 p.m.–2 p.m. Gasoline Lollipops, playing alt-country, folk and punk
2:30 p.m.–3:30 p.m. Danielle Ate the Sandwich, playing folk and indie
4 p.m.–5 p.m. Write Minded, playing hip-hop, funk, reggae and rock
5:30 p.m.–6:30 p.m. Taylor Scott Band, playing soul and jam
7 p.m.–8 p.m. Dubskin, playing reggae
8:30 p.m.–10 p.m. WhiteWater Ramble, playing dance-grass
Fortoberfest Beer Menu
Easy Street Wheat: Odell Brewing 
Rupture Fresh Grind Ale: Odell Brewing 
Isolation Ale: Odell Brewing 
Oktoberfest: Odell Brewing 
Märzen: Prost Brewing 
Dunkel: Prost Brewing 
Sierra Nevada Oktoberfest 
Samuel Adams Octoberfest 
Angry Orchard Cider 
Coors Light 
The festival will be Sept. 16, starting at 11 a.m. More information can be found at fortoberfest.com
What: A celebration of bikes, beers and bands 
When: 11 a.m. to 10 p.m. Sept. 16
Where: Old Town Square
Cost: Free
Collegian reporter Sarah Ehrlich can be reached at entertainment@collegian.com and on Twitter @SarahEhrlich96.