Fort Collins reacts to Old Town's Rocket Fizz Soda Pop and Candy Shop
Mareena Winchell
April 5, 2017
Rocket Fizz is known for the endless amounts of candy held within the store. From taffy to chocolate to everything in-between, you can find it here.
"Rocket Fizz was one of the first places I visited in Old Town, walking in it took my breath away," said customer Ruth Barringer. "Every time I go to Rocket Fizz I feel like my inner kid is being brought out and is running loose inside of this amazing store. Walking inside Rocket Fizz you get a sense of excitement like you are inside the Willy Wonka Factory or something crazy and out of this world."
Rocket Fizz specializes in candy. It has normal candy and chocolate, but if one is feeling a little dangerous and risky they can try the sillier selections sold at rocket fizz including lollipops that have insects inside of them.
"I think I is funny how when your eyes are scrolling in Rocket Fizz. It goes from chocolate, to gum, to insects inside a lollipop," said customer Jonathan Hunkins. "It is not that often you can find hangover mints or paint ball pops in one store. You walk into Rocket Fizz with some money in your pockets and you leave broke and with cavities… but it's so worth it."
Rocket Fizz is also known for the option of building your own bag of taffy. The selection of taffy is huge, including crazy flavors like maple bacon, chicken and waffles, stout beer and PB&J to classics like cherry, chocolate, banana and blueberry.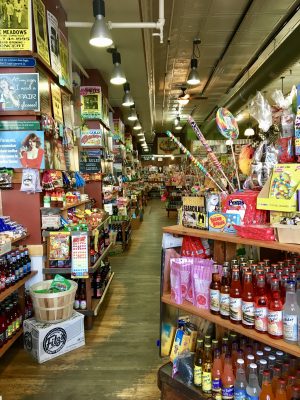 "The taffy bar is my all-time personal favorite," said customer Paula Thompkins. "I'm not a big fan of chocolate, but the taffy bar keeps me coming back to Rocket Fizz. I like the freedom of choosing your own taffy because there is no fun in the normal bundles that usually contain taffy."
Candy is not the only thing that can be found within this store; there is also an enormous selection of soda or "pop."
Like most the assortments inside the store, the choices of soda are never-ending. There are choices like pumpkin pie, bacon, coffee, ranch dressing and buffalo wing soda.
"[Rocket fizz] has the craziest selection of pop I have ever seen," said customer Kyler Terringer. "It is always a fun new adventure when I try a new soda favor. I have not tried nearly enough to call myself a Rocket Fizz professional in the soda department, but I have tried enough to know that you cannot find these flavors just anywhere."