FoCo Book Fest features a "Yeti Viking," Julia Child, Colorado apples, and more
Sponsored Content
October 14, 2019
Sponsored Content:
By Katie Auman
Poudre River Public Library District
Learn how to brew beer like a yeti, enjoy a storyteller's performance of Julia Child, and explore the history and future of Colorado's apple industry.
These are just a few of the featured topics at Fort Collins Book Fest: Food for Thought. The free event happening Friday, October 18 and Saturday, October 19 features more than 40 authors, chefs, performers, and presenters.
This year's festival showcases unique writers and also takes on important social and
cultural topics around food. The author lineup, festival schedule, and session descriptions are available on the FoCo Book Fest website.
Here's a taste of what else you'll find at the event.
Plenty of big names will appear – Sean
Sherman, award-winning chef and author ("The Sioux Chef's Indigenous Kitchen") and acclaimed writer Rick Bass ("The Traveling Feast: On the Road and at the Table with My Heroes") will deliver keynotes.
Toni Tipton-Martin shares her journey discovering the true role of black women in the creation of American cuisine with her
award-winning book, "The Jemima Code: Two Centuries of African American Cookbooks."
Three Colorado State University writers dive into the current state of our food systems and what that means for the future of food. Michael Carolan shares "The Food Sharing Revolution: How Start Ups, Pop-Ups, and Co-Ops Are Changing the Way We Eat." Mark Easter discusses the environment with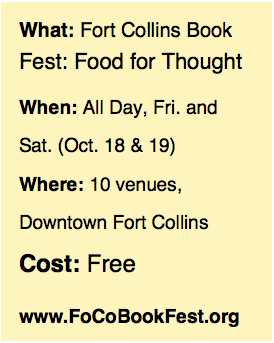 "The Blue Plate: A Food Lover's Guide to Climate Change." And Joshua Sbicca examines food inequality with "Food Justice Now! Deepening the Roots of Social Struggle."
Sprinkle in cooking demos, panel discussions, author readings, and writing workshops and you have a weekend filled with authors, activities, and "Food for Thought."