49,000 Great American Beer Festival tickets sell out in 45 minutes, scalpers could be to blame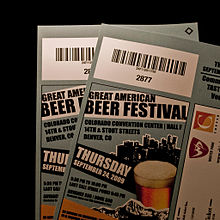 Yep, as unbelievable as it is, that headline is correct. It appears that Coloradans really like drinking beer, because as Eric Gorski reports at the Denver Post, the previous record for the festival's sell out was 10 days.
Gorski is quick to point out, though, that:
 (…) even more pressing will be the matter of whether the tickets were snatched up by beer lovers or scalpers. With the event's popularity soaring, did the professional devise a system for hoarding tickets to this year's sessions, leaving beer lovers out in the cold? It's a serious concern.
And based off the comments on his post, tickets may not have even lasted 45 minutes. As one commenter, Nigel Jordan, wrote:
This is disingenuous. The tickets were sold out in less than five minutes. Thousands of people were logged in at 10am and getting the "no tickets available" five minutes into the process. 45 minutes? No tickets lasted 45 minutes.
And several other commenters, such as emanon256, suggested scalpers are to blame:
Something is fishy. I was hitting reload on TM just before 10am. When it finally let me choose a number of tickets, it immediately said no tickets were available, before 10:01am. I tried for quite a while, but within 30 min one person was selling 60 tickets on Stub Hub for $160.
As unfortunate a prospect as scalpers hoarding beer festival tickets is, it's pretty cool to think that the beer industry is large enough in Colorado to warrant such an act.
Related articles