Tips from pros for a winning Oscars party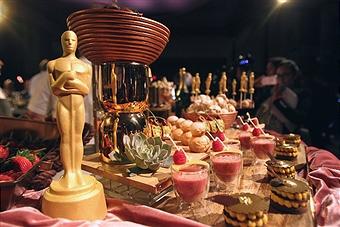 Nowadays, parties are thrown for pretty much any occasion. Whether it be throwing a Super Bowl party or a party for your newfound single-ness, the time is always right for a celebration.  With the 2016 Oscars coming up, why not use it as another excuse for a get-together. To make doing so easier, experts have weighed in some tips from their previous experiences in the Wall Street Journal.
To begin, you need to to think about the purpose of you party. Would you like the party to be a dinner affair, a cocktail hour or a movie night? Whom do you put onto the guest list? Questions like these and more can be answered by the pros.
When it comes to the guest list, think about what the Oscars is for.  The point of the Oscars is to award cinematic genius. So, it doesn't make sense to invite people who do not have an interest in great cinemas or the artists who create them. Invite the friends that are always telling you to check out the latest films or always posting new movie trailers. They are going to be the guests most excited about the gathering.
Not every occasion calls for themed drinks, but if you had to pick one that did, it would be the Oscars. Themed drinks will add a sense of character to the party.  The drinks will also enhance the experience of your guests.  If you provide drinks related to different films or people being nominated during the awards, your guests will be more likely to pay attention and feel involved. Associating the senses of sight and taste are a great way to amplify the atmosphere of the party.
Chances are that if you are hosting an Oscars party, guests will expect there to be some sort of screening.  This could be clips from various films nominated or the actual show. If you plan on screening anything outside, be sure to have the party start as soon as the sun goes down.  Also, be sure to provide pillows and blankets, so your guests can be as comfortable as possible.
Also, you may be tempted to have themed-party games, like ballot boxes or costume contests.  However, the reality of the situation is that most games fail because they are not fun.  Let the guests entertain themselves by participating in great conversations.
For more tips on how to throw an Oscar party, click here.