Green Report: Industry, state reactions to White House warning
Sean Spicer certainly shook up the marijuana industry after last week's comments on potential federal regulations.
On Monday, Attorney General Jeff Sessions continued to prod at the issue in his first official briefing.
"I don't think America is going to be a better place when more people are smoking pot," said the highest ranking law enforcement official in the US. "I'm definitely not a fan of expanded use of marijuana."
Those statements do not come as much of a surprise, considering Sessions past comments on marijuana. Further comments from Sessions reaffirmed his dislike for the drug.
"Experts are telling me there's more violence around marijuana than one would think," Sessions said.
Many have spoken out since then, here is just some of what has been said.
Industry Comments
One of the main issues with Spicer's comments is that they seemingly reverse previous White House positions on state's rights.
"Today's news coming out of the administration regarding the adult use of cannabis is, of course, disappointing," said CEO Derek Peterson of marijuana cultivator Terra Tech Corp. "We have hoped and still hope that the federal government will respect states' rights in the same manner they have on several other issues."
Additionally, others have cited that the marijuana industry, if allowed to flourish, is a vital revenue source for the future of America.
"This is absurd. For a president who ran under the banner of job creation, he actually needs to start looking at where the jobs are being created," said Patrece Bryan, the president of the marijuana marketing firm Cannabrand. "With Colorado generating $1.8 billion over a 10 month period, this is America's new agriculture. Why would we take this revenue away from our country?"
Pro-marijuana organizations have also stepped up to provide counterpoints to Spicer and the rest of the administration.
The Marijuana Policy Project, which works to end marijuana prohibition, cited a poll which showed that a majority of Americans support legalization, and 71 percent believe that the feds should stay out of the issue altogether.
Additionally, the organization's communications director Mason Tvert had this to say in his official statement.
"This administration is claiming that it values states' rights, so we hope they will respect the rights of states to determine their own marijuana policies." said Tvert on the MPP website. "It is hard to imagine why anyone would want marijuana to be produced and sold by cartels and criminals rather than tightly regulated, taxpaying businesses."
Comments From State Officials
Governor Hickenlooper appeared on NBC's "Meet The Press" and was asked about Session's potential plans to enforce marijuana laws.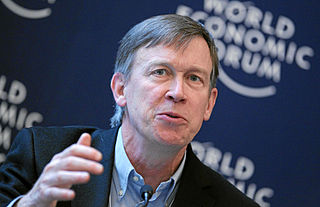 In the interview, Hickenlooper basically says that it is not entirely a certainty that the feds could stop the states from having legal weed.
Nevada has not been scared away from the potential federal crackdown. The agency that will be responsible for creating rules for the sale of marijuana in the state released their official statement.
"As of now, the Department of Taxation is moving forward with our regulation development as planned," said agency spokeswoman Stephanie Klapstein.
The attorney general for the state of Washington, Bob Ferguson, also spoke out against the White House comments.
"We will resist any efforts to thwart the will of the voters in Washington," Ferguson said.
In addition to his comment, Ferguson said that he has requested a meeting with attorney general Sessions to discuss the approach to legal, regulated marijuana.
Thoughts
Will any federal crackdown occur though? That is hard to say.

Many proponents of marijuana have spoken out against Spicer's warning, which speaks to the level of marijuana's popularity. Lawmakers in legalized states seem to recognize this, and will most likely put up a fight if the feds do decide to crackdown.