Music: Lady Gaga wins for everything, her new side
Lady Gaga is making another rise to the top, and this time, she is doing under her own terms. After a hiatus to focus on herself and a re-evaluation of what she wanted out of her career, she has become a shooting star yet again and is becoming the most powerful woman in the music industry at the moment. After speaking out in her Emotional Revolution project about being who you are and doing what you feel is right, Gaga became a symbol for those against the modern-day industry, showing that you can create boundaries as a musician and still have success. Her short explanation of her change in attitude toward music went viral and is still being circulated on Facebook.
Now, back at her music, she has been stunning audiences for months with her powerful vocals and classic style, all of which are a far stretch from her old pop mixes. Her first shocking performance came when she paid tribute to Sting in the Kennedy Center Honors in 2014 with a beautiful rendition of "If I Ever Lose You."
More recently, the nation was shocked at her grace and patriotic flare for the 50th "Super Bowl," singing the "Star-Spangled Banner" in a sparkly red suit and matching red eyeshadow, which you can watch here. And finally, there was Sunday night's Oscar performance. Lady Gaga sang her Oscar-nominated song about sexual assault, singing as survivors streamed on to the stage to join her, their words of wisdom, pain and reflection written on their right arms and held for all to see.
#Oscars: Watch @LadyGaga perform 'Til It Happens to You', up for Best Original Song tonight https://t.co/cv45ZqaBaE https://t.co/dXWQvkAOvC

— Hollywood Reporter (@THR) February 29, 2016
These powerful ballads are beautiful, but they also don't reflect all that Lady Gaga has done in the last few months. She also won a Golden Globe for her acting work in "American Horror Story: Hotel," and made another viral hit in the form of a .gif with her and recently Oscar-endowed Leonardo DiCaprio.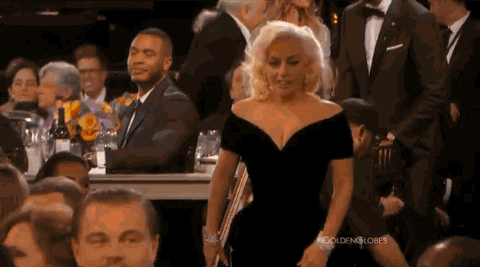 The singer also came out in support of Kesha last week, who is still fighting her Sony contract despite the rulings of the judge. You may love Lady Gaga, you may hate Lady Gaga, but you have to admit, this new side of Lady Gaga has the world watching and I, for one, am loving every moment of it. What do you think of Lady Gaga? Do you like this new side of her, or do you miss her edgy and wild past? Do you think we will ever see that Gaga again, or is she on top of her game now? Let us know in the comments.
Collegian Blogger Sarah Ross can be reached online at blogs@collegian.com or on Twitter @HowSarahTweets. Read more of her content on AltLife.collegian.com or at collegian.com under Music. Leave a comment.