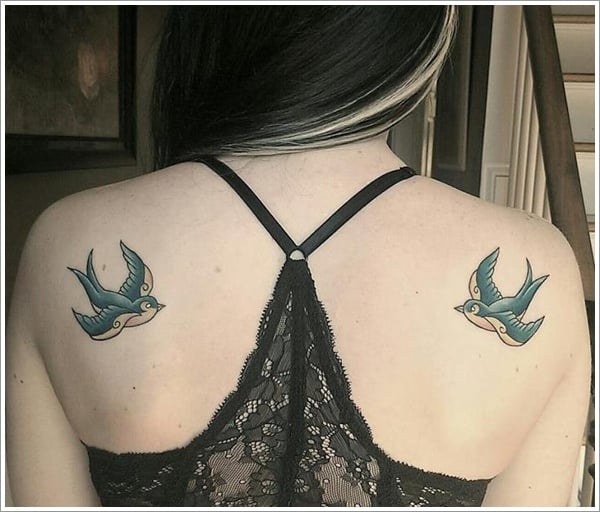 There is definitely a stigma in the tattoo world of getting a "white girl tattoo."
Anchors, feathers, swallows, any quotes written in cursive (whether it be biblical, personal, or from a song), or anything to do with an infinity sign are almost taboo because of how mainstream they have become (weird, right?).
Personally, I hate how we look down on women for following trends. So, in order to attempt to de-stigmatize many styles such as these, I've decided to look deeper into some trends in the alternative world that have been deemed too "main stream" by our growingly cynical society. I'm going to look into how the trend started, what the common meanings for the tattoos are, and possibly pinpoint why they have struck a chord with our society.
---
This week's trend is swallow tattoos, the infamous and ever popular. I, personally, love swallows. Out of the bird family, they are some of the prettiest birds to see and hear, and they are fun and energetic. However, this isn't about what I think, it's about what the trend actually embodies.
"The swallow, as well as bluebirds and sparrows, has always had a symbolic meaning for sailors because these birds were usually the first sign that land was near (before modern navigation technology). A swallow tattoo for a sailor reflected his hope of coming home safely," said FreeTattoo, an international ink blog.
"Another fact is that swallows return home every year, no matter where they are. Every year, Mission San Juan Capistrano in California plays host to this wonder of nature. A flock of the tiny birds numbering in the tens or even hundreds of thousands descends upon the mission in a grand display of the workings of migration. "
In a cynical world, we often need a reminder of hope and peace, and the swallow delivers that in a cute and fashionable way that also calls forth ancient recollections, including Biblical references. It is also the embodiment of a carefree and happy bird, and many empathize with needing that sort of positivity. It also can be a symbol of resilience, in both life and love.
"The swallow is a bird that chooses a mate for life," noted FreeTattoo. Therefore a swallow tattoo is also a symbol for love and loyalty to the family. Other symbolic meanings are in the same line: The return home after a struggle, a hardship survived, or a victory gained."
Christina Applegate sports her vary own swallow tattoo on her abs, while Johnny Depp has one on his lower right arm.
Had a rough year last year? Looking for a better start after a rough journey? Why not a swallow tattoo? Are you up for it? Let us know in the comments!!
---
Collegian Blogger Sarah Ross can be reached online at blogs@collegian.com or on Twitter at @HowSarahTweets. Read more of her content on AltLife.collegian.com or at collegian.com under Music. Leave a comment!