From Canada to CSU to Tokyo, Olympian Lauren Gale defies odds
Jeremiah Janzen
October 5, 2021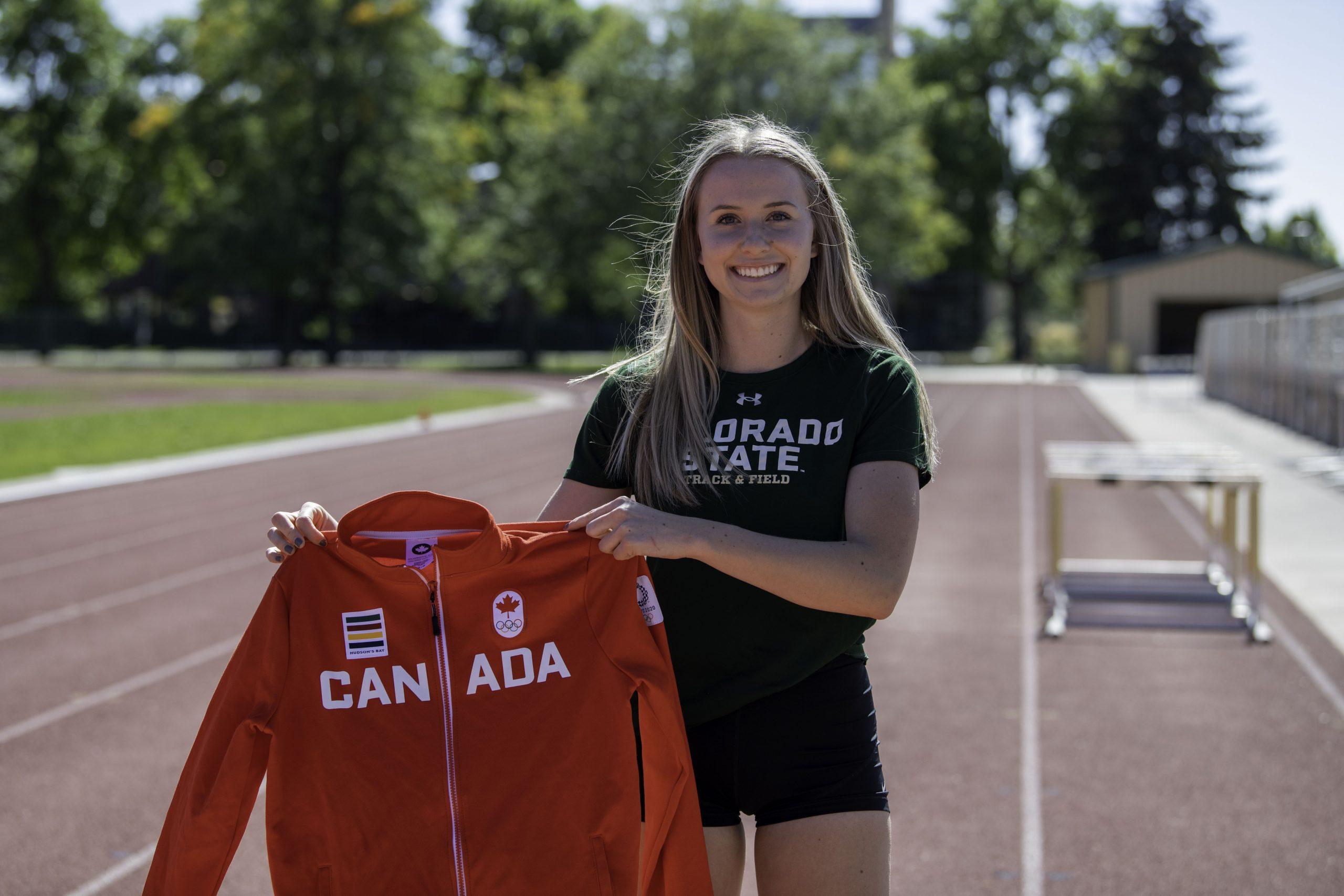 According to the NCAA, an estimated 488,267 women compete in high school track and field events, with roughly 2.8% going on to compete at a NCAA Division I level. Furthermore, Bill Mallon, co-founder of the International Society of Olympic Historians, put the chances of becoming an Olympic athlete at approximately 1 in 560,000.
Despite seemingly insurmountable odds, 21-year-old Colorado State University student Lauren Gale managed to accomplish both of these feats.
Gale recently traveled to Tokyo for the 2020 Olympic Games as the youngest member of Team Canada track and field. While the Canadian from Fredericton, New Brunswick, did not wind up competing, she raved about her time overseas and the experiences she had.
"Tokyo was unreal and just so cool," Gale said. "I loved every second of it. From my teammates to the locals to the food, … it was all fantastic."
According to Gale, a memorable experience was her encounter with reigning Olympic champion Andre De Grasse. De Grasse, who is a member of Team Canada men's track and field, won a gold medal in Tokyo while competing in the 200-meter race.
"(De Grasse) had signed a shirt for my grandpa years ago, and now all of a sudden we were sharing an elevator in Tokyo," Gale said. "It was super cool to have him sign it and then to be on the same team as him."
The 4×400-meter relay team Gale belonged to performed impressively at the Tokyo Games, coming in fourth place and just barely missing out on a bronze medal. Despite being the youngest member of such a strong unit, Gale insisted any nerves she may have felt going into the games were quickly relieved upon meeting her teammates.
"At first I was nervous about meeting my team, but everyone was so amazing and welcoming," Gale said.
After a grueling few months training and traveling, Gale returned home to Canada after the Olympics. One might assume things would slow down for an Olympic athlete upon their return home from competition, but for Gale, this was hardly the case.
As she settles into her senior year at CSU, the eight-time All Mountain West honoree has her sights set on even more success, both athletically and professionally."
"I went back to Canada for a week and that was really nice, but then only a week later was move-in week," Gale said. "Practices started back up with my team, and at first I was only doing three days of practice just to kind of ease back into things. But now I'm getting back into my full-time practice schedule."
What does a full-time schedule look like for Gale? Well, "jam-packed" may be an understatement.
"I wake up every day at 8 a.m. and have coffee with my roommate, Bri," Gale said. "After the coffee kicks in, I go to class and then straight to practice. After practice, I have some food, lift weights, hit the training room and refuel station, do homework and online classes, make dinner and then go to bed. … It's definitely a lot, but I love it."
Gale entered this season as the reigning 400-meter Mountain West Conference outdoor champion and as the CSU all-time record holder in the outdoor 400-meter event. Gale's indoor resume is equally impressive, having won the MW 400-meter indoor championship in both 2020 and 2019 while also holding the CSU all-time indoor 400-meter record.
As she settles into her senior year at CSU, the eight-time All Mountain West honoree has her sights set on even more success, both athletically and professionally.
"Some goals I have are winning the MWC indoor and outdoor championships and then making the World (Athletics) team and Commonwealth Games team," Gale said. "Long term, hopefully Paris 2024. But for right now, my main focus is competing for CSU and being the best teammate that I can be."
Outside of competition, Gale remains laser focused on her final year of academia. Her desire to help people initially sparked her interest in studying medicine. She now holds aspirations of ultimately returning to Canada as a dental hygienist, aspirations she said come from her mother's experiences of working in a dental office.
"My mom loved the atmosphere and people she worked with and said it's hard but worth it," Gale said. "I knew I wanted to go into the medical field to help people, and she helped me choose that career."
The Olympian's final thoughts further shone light on not only her Olympic mindset but what it means to be an exemplary Ram as well.
"I just want to shout out to my coaches and parents," Gale said. "I never would have gotten to where I am if it wasn't for their support and guidance. My parents always told me to follow what I like and that no goal was unachievable, and that is advice I'd encourage anyone to follow."
Jeremiah Janzen can be reached at sports@collegian.com or on Twitter @JeremiahJanzen.