Rams take 3-1 win against Fresno State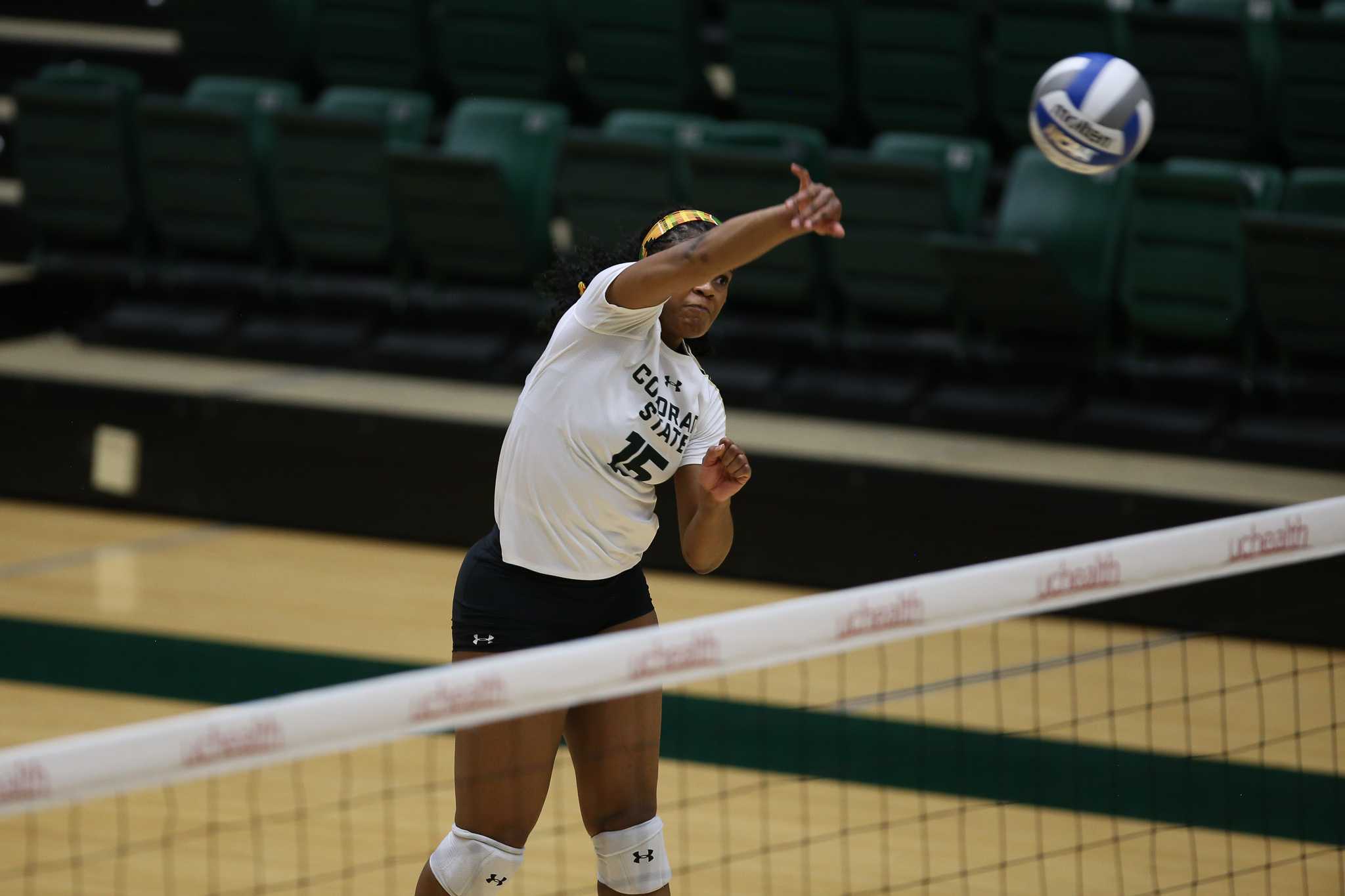 With an extra day of unexpected rest, it is only right that offenses ran rampant in Colorado State's volleyball win over California State University, Fresno.
What was supposed to be a standard two-game series got cut short after Fresno State's COVID-19 testing results were delayed. The series was allowed to continue, but it was limited to a one-game series after Friday's game was canceled. 
Set one started with the Rams and the Bulldogs going back and forth, with Fresno State taking their first and only lead of the set early on at 4-3. The Bulldogs tried to stay in the fight, but a three-point run in the middle of the set gave the Rams a solid 15-9 lead. 
Sophomore setter Ciera Zimmerman was able to return to a buffered amount of play after recovering from an ankle injury that occurred during the Rams' series against San José State University. The Rams adjusted to Zimmerman's limited playing ability and shifted to a 6-2 offense, which created several great options for CSU to use their selection of strong hitters.
CSU pushed their lead in set one, getting ahead by 10 points, and they started off the match with a set one win at 25-17. 
The Rams are a young team, and this definitely showed in set two. This time around, it was the Rams that let the game slide away from them, and Fresno State capitalized. The Bulldogs held a 22-15 lead late in the second set, and it proved too far of a deficit to overcome for the Rams. 
Set three saw the Rams start aggressively, as they jumped to a 4-0 lead. Breana Runnels took advantage of Fresno State's weak spots and continued the offensive assault for the Rams with a piercing kill, increasing the lead to 5-1.
Colorado State then went on a five-point run with an ace from Zimmerman and a pair of kills from Runnels and Kennedy Stanford to push the lead to 16-7. 
With attack errors staying consistent with Fresno State, the Rams pushed their lead to 21-10. Freshman Naeemah Weathers entered the set later on, gaining her first kill of the night and bringing the Rams closer to a set win. Runnels ended the set with an ace, taking the win 25-12. 
Set four started with the Rams taking the lead, but Fresno State stayed close behind at 5-3. The two teams tied after an attack error by Alyssa Groves but was reversed after a Bulldogs service error. Fresno State took their first lead of the set with a kill, making it 7-6. After a tight battle between both teams, the Rams finally got back on track with a late seven-point run shooting them to the lead of 20-15. 
With help from some big defensive plays from Sasha Colombo and Stanford, the Rams close out the afternoon with a 25-17 win. Closing the game with a 3-1 victory, the Rams now have a record of 6-5 on the season.
The group of hitters ended with a total of 51 kills; Runnels led the team with 15, Stanford with 10 and Colombo finished with nine.
The Rams ended the day with a great win, practicing a new offense and getting the freshmen some experience. It will be interesting to see how head coach Tom Hilbert's squad builds on this win and matures as the Rams look toward their final four games of the regular season. 
CSU will play Boise State University at Moby Arena in a one-game series on March 25. 
Taylor Paumen can be reached at sports@collegian.com or on Twitter @TayTayPau.