Cottingham promoted to deputy director of athletics
Justin Michael
July 6, 2017
Colorado State Athletic Director Joe Parker announced that Steve Cottingham has been promoted to the role of deputy director of athletics Thursday.
Hired by the university in 2012 as the senior associate athletic director for business operations/chief financial officer and promoted to associate athletic director in 2015, Cottingham has quickly risen through the ranks at CSU.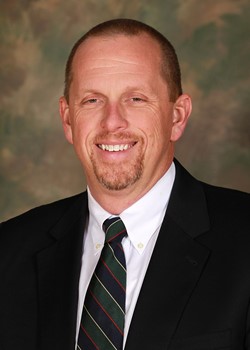 "Steve Cottingham is an integral member of our leadership team; focusing his attention and talents on a number of areas within CSU Athletics," Parker said in a release.
"We rely heavily on his experience, business acumen, positive demeanor and commitment to the student-athlete experience. This well-deserved promotion articulates the importance of Steve's leadership to the entire department."
Since his arrival in 2012, Cottingham has played a major role in the athletic department's financial planning and also held a leadership role in the financing and building of CSU's on-campus football stadium, including leading game day, tailgating and parking planning.
Cottingham also helped secure the necessary resources for the Jack Christiansen track & field complex to be renovated, as well as constructing a new home facility for the women's soccer team.
"I am very thankful for Joe's leadership and his expression of confidence in expanding my role," Cottingham said. "My family and I are blessed to be a part of CSU Athletics and the Fort Collins community. I'm thrilled by what we've already accomplished together and what the future holds for all Rams."
Along with the promotion of Cottingham, it has been a summer full of changes for the CSU athletic department. The football team recently announced the addition of Emily Laff as recruiting director and Jeff Schmidt was introduced as the new communications coordinator for the volleyball, softball and women's golf programs.
Collegian sports director Justin Michael can be reached by email at jmichael@collegian.com or Twitter @JustinTMichael.