On-campus stadium approaches completion
Chad Deutschman
March 22, 2017
On the southern bank of Colorado State University's campus, a new home for Colorado State football is taking shape — $220 million worth of shape.
A gold Rams logo highlights the north stands and windows grace the stadium's outside walls, where the reflection of Hughes Stadium can still be seen. The scoreboard structure is beginning to take form above the south end zone as terrain levelers prepare to install turf below.
The new home for Colorado State football will not open its gates to 41,000 fans until August 26, when CSU hosts Oregon State to open the season. Nevertheless, the shell of the stadium has begun to cast its shadow upon CSU's campus.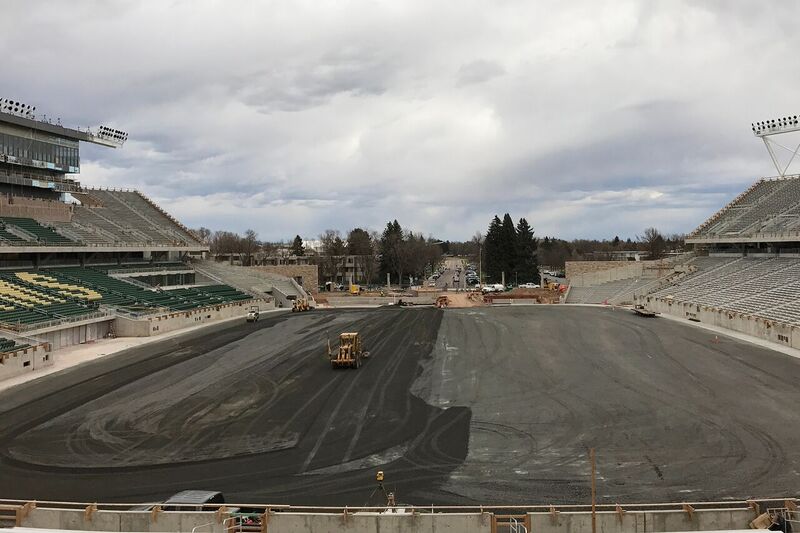 As opening day approaches, the stadium remains on schedule and on budget, according to CSU's athletic director Joe Parker.
"There's just so much that can be communicated in a rendering, so much that you can't describe in words," Parker said while leading a media tour through the stadium. "To see it actually functioning, and functioning with 40,000 people in the building will be when they finally, I think, understand why this project was needed."
Construction on the stadium began in September 2015, and upon completion it will feature a complete state-of-the-art facility for CSU football.
When CSU moves into the new facility in mid-June, they will be greeted with a plethora of amenities, including: a 9,100-square-foot weight room, a complete sports medicine office featuring four hydrotherapy pools, a home locker room with 120 36-inch lockers with built in ventilation systems to help curtail odors, a 120-seat team meeting room, offices for football staff and a 3,700-square-foot player and recruiting lounge.
A $3 million practice facility borders the stadium to the west. The practice fields will use the same Shaw Sports Turf as inside the stadium. The practice fields adjacent to Moby Arena will be utilized to house other CSU sports, specifically women's soccer, Parker said.
The players have walked through the stadium once, during Idaho Potato Bowl preparation, and will need to earn the approval of their head coach to officially move in.
"Right now we're trying to earn the right to get in this building," CSU head coach Mike Bobo said. "So, I don't know if I'm going to bring them over any time soon. Hopefully we'll be at that point for the first ball game. We've got to earn the right to get into this stadium, so we are in the process of earning it right now."
However, fans will see some of the more impressive elements of the stadium.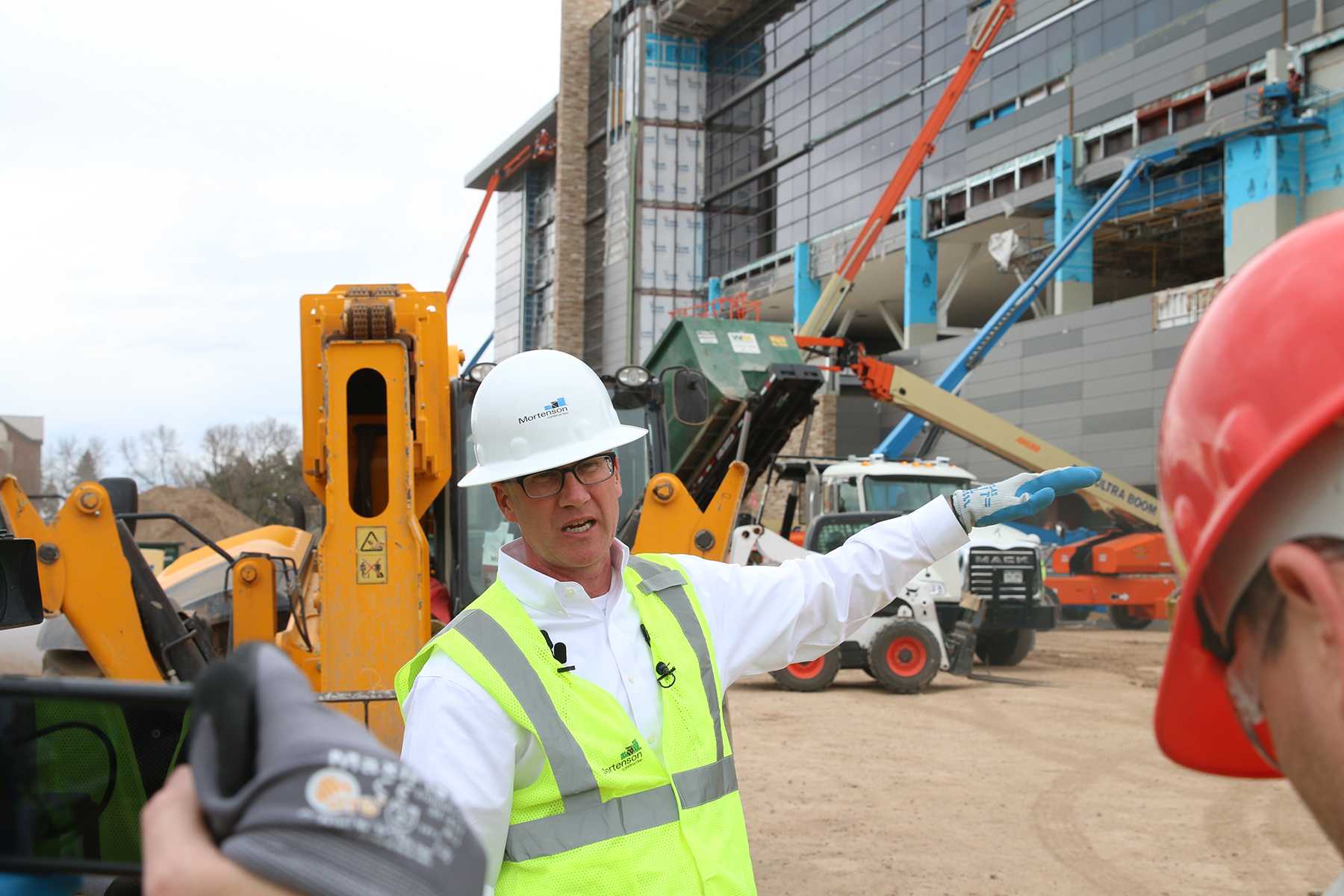 Attendees will be treated to the first field-level club in all of college football — rivaled only by the Dallas Cowboy's field club at AT&T Stadium. The Orthopedic and Spine Center of the Rockies field club-level will put 600 fans behind the CSU bench pregame, postgame and in-game action. The OCR field club can be accessed by season ticket-holders for the duration of the season for an additional $400.
"If you're a season ticket-holder, you can actually add this access onto your ticket," Parker said while explaining who will be able to access the field club-level. "It'll be used for pregame, halftime, end game, in-game … you can't be in the team area, but you'll be able to see it and experience the energy from right behind the team."
In addition to the close proximity to the team, fans will have a one-of-a-kind look at the team running onto the field from a side window to the south. Entrance into the club will guide fans through the Hall of Champions, a 5,800-square-foot room highlighting the history and accomplishments of CSU football, while also showcasing the University's relationship with Under Armour, according to Parker.
A noticeable portion of the stadium still to be constructed is the New Belgium Porch above the north end zone. Similar to the OCR club, season ticket-holders can gain access to the porch though an additional $200 fee. New Belgium received rights to the porch via a $4.3 million donation in August 2016.
The stadium has already been scheduled for 29 events. Weddings, retreats, receptions, banquets, fundraising events and holiday festivities have been booked beginning in July.
"Everything is first-class," Bobo said. "When you recruit a young man, you want to tell them that you're … going to help them develop in all areas, and the resources that we put into this stadium and every area of this stadium is proof in the pudding."
The University is actively seeking sponsorship for stadium naming rights. There is no timetable set for finding a sponsor and the University is content with entering the 2017 season without one,  Parker said.
The field, however, will stay true to Hughes Stadium, as an anonymous $20 million donation assured that Sonny Lubick Field would make the journey to campus.
Remaining timetable for on-campus stadium:
Mid-April: Turf installation
Late-April: Scoreboard panels installed
Mid-June: Substantial completion, football program moves into stadium
July: Substantial completion of alumni center, classroom space and CASA
August 26: CSU vs. Oregon State
Sept. 4: FORTitude 10k
Collegian sports editor Chad Deutschman can be reached by email at sports@collegian.com or on Twitter @ChadDeutschman.