Colorado State promotes Marty English to defensive coordinator
Keegan Pope
January 8, 2016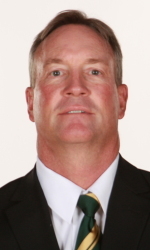 Colorado State's defense will be led a familiar face starting this spring. 
Friday, head coach Mike Bobo announced Friday that Marty English has been promoted to be the Rams' new defensive coordinator. English, who served as CSU's co-defensive coordinator from 2012-14 under former head coach Jim McElwain, has coached the Rams' linebackers the past four seasons.
"We had lots of very qualified people interested in this job, but we had a very qualified person on this staff who has been a coordinator in this league," Bobo said in press release from the University, "and I want to reward people who have been loyal to me. Marty has done an outstanding job in my time here, and takes great pride in being a Colorado State Ram."
English, who graduated from Lakewood High School, called the defensive plays for Colorado State in the 2015 Arizona Bowl last week after the departure of previous defensive coordinator Tyson Summers, who accepted the head coaching position at Georgia Southern. 
During his time under McElwain, English helped revamp a CSU defense that was among the worst in the country when he took over. He also coached 2013 Mountain West Defensive Player of the Year Shaquil Barrett, now with the Denver Broncos. 
Before being hired by McElwain, English spent 16 seasons at Northern Colorado (1987-02) and nine at Wyoming (2003-11). 
Collegian Senior Sports Reporter Keegan Pope can be reached at kpope@collegian.com and on Twitter @ByKeeganPope.