Size, athleticism and depth.
All three were serious needs for CSU football heading into the 2013 off-season, and coach Jim McElwain believes his next recruiting class fills them all.
In his first full recruiting cycle since becoming the head coach of CSU, McElwain and his staff announced the addition of 24 players, including 20 from high school and four junior college transfers.
"We're really excited about the quality of the individuals that we brought in … I know we've answered some needs," McElwain said at the announcement press conference. "Each and every one of them we expect to be impact players at sometime in their career."
In McElwain's newest class is a potential quarterback of the future in Murrieta, Calif. native Nick Stevens (6'3″, 190). Stevens impressed CSU coaches during a summer workout in which he threw around 65 passes, displaying his ability to hit every route with accuracy.
"He missed one throw. Everything else was a catchable, on target, release," offensive coordinator Dave Baldwin said. "We came away from there going, 'This is a phenom.' … It was a no brainer. There were a lot of people that came back on him."
Baldwin talked about his athletic prowess as an exciting facet to his game that attracted the attention of schools like Boise State. Stevens won a championship in his junior year, and lost another in his senior season.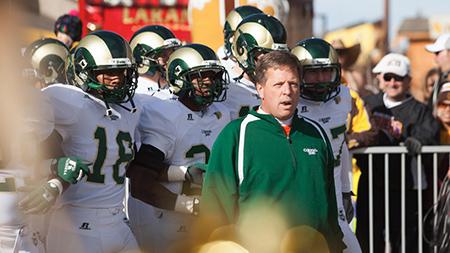 Championship appearances seemed to be a focus in this recruiting class with a total of six championships in the group, and 48 combined playoff appearances. After years of disappointment, the program wanted a group that expect to win, and more importantly, know how to win.
"Guys that are used to winning, they find it really hard to throw in the towel," McElwain said. "That is something that is so important because it says a lot about a guy that knows how to win. Winning does not come easy … the day-to-day work ethic. Those guys that are winners, they always have a way to dig down deep and figure out a way to get it done."
Wide receiver was a position McElwain said he was very pleased with, in that the Rams added much needed size, joking that he wanted to find guys at least taller than him (about 5'10").
Rashard Higgins, Sammie Long, Elroy Masters and Xavier Williams are all 6'2" or taller, allowing them to play the outside positions and move current wide receivers like Thomas Coffman and Charles Lovett in the slot full time. The new corp's athletic ability will be evident once they get on the field, according to Baldwin.
"We're are gonna go deep," Baldwin said. "I think the mismatches that you get, and the physicality, we're gonna be able to run the football too. If you're big and can get in on the safeties, that's going to help us in that aspect too. I really want to create mismatches, and I think those kinds of receivers do."
While the offense has added pieces for the future, the most likely position group to impact the team by next fall will be the defensive line, bolstered by junior college transfers Terry Jackson and LaRyan King.
"We're real happy with the older guys that are coming in that have that size and maturity that can get in and hold point a little bit better," co-defensive coordinator/linebackers coach Mary English said. "We needed (size), and it shows. It shows in the games where we needed that help, so we addressed that right away."
Only two high school recruits, defensive lineman Austin Berk and tight end Brett Jordan, are enrolled for the spring semester and able to participate in spring practices, while the rest will join the team around June 17, the start of the second summer session.
Football Beat Reporter Cris Tiller can be reached at sports@collegian.com.